A boiling water tap is this year's must-have addition to your kitchen.
No more waiting for pans or kettles to boil before you can throw in some pasta or make a cup of tea. In an instant you can have boiling water – quite literally – on tap. We explore the options available to you to help you work out the best boiling water tap for your home and requirements.
Installing a boiling water tap
Boiling water taps are easy for any professional to fit to an existing kitchen. Many of the best boiling water taps replace your existing taps, although some act as an additional tap. But the best time to think about installing one is when you're having a new luxury kitchen commissioned, as you can work with your designer to plan your space.
One thing to bear in mind is the room you'll lose inside your cabinet, as boiling water taps come with a bit of additional kit. They require a water supply, of course, and a three-pin plug socket underneath the cabinet. The extra equipment can include a smaller boiler or hot water tank and a filter, which can help prevent limescale.
A lot of people wonder how much boiling water taps cost to run. Good news. A boiling water tap is incredible efficient and running costs are low. According to Quooker, their boiling water taps can cost just 3p per day to run on standby.
By comparison, it costs nearly that to boil a full, modern kettle every time you use it.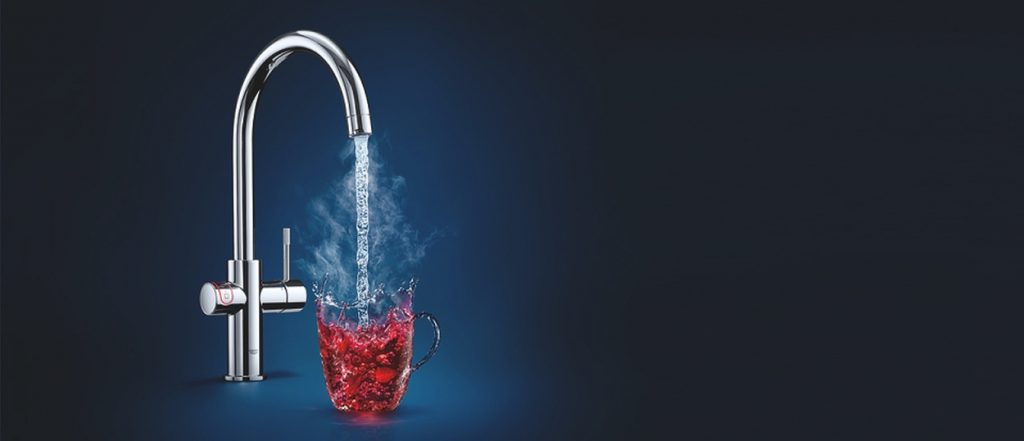 Grohe's Red Duo is a mixer tap and comes with hot and cold water functions too, so they claim it is the only hot water tap you'll ever need in your kitchen. You have the option of either a 3 litre or a 5.5 litre boiler, so it's ideal for small and larger families. It's also fantastic for anybody with a family of young children, as the Grohe hot water tap has a two-step, child-friendly process for obtaining hot water.
The build quality is excellent and it's a smart, simple design that would fit either a modern or a traditional kitchen perfectly. 
Learn more at Grohe.co.uk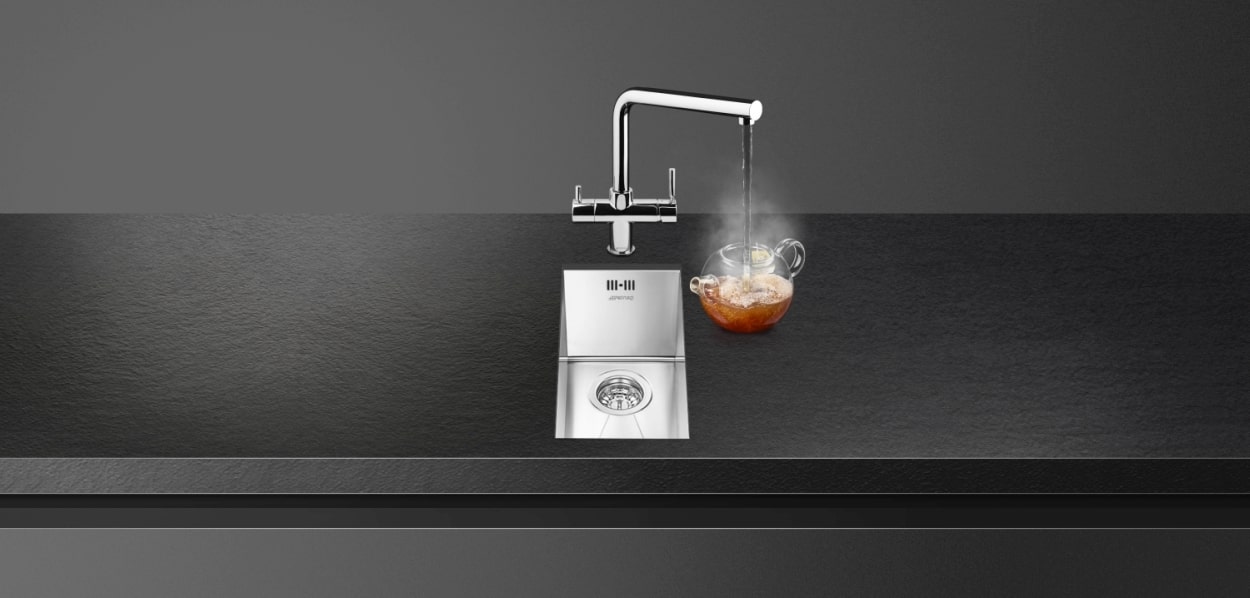 aImage credit: Smeg UK
The MAP100CR from Smeg is a mixer tap which gives you hot and cold water, so it can replace your existing tap or be the only tap in your new kitchen. Like the Grohe above, the Smeg tap is also child-friendly with a safety mechanism installed in order to avoid water scalding. The neck of the tap is also insulated, so you won't burn your fingers when you touch it.
The tank is 3 litres which is more than enough for the majority of households and is extremely energy efficient. This beautiful Smeg hot water tap comes in a smart chrome finish and suits all types of kitchens. 
Learn more at SmegUK.com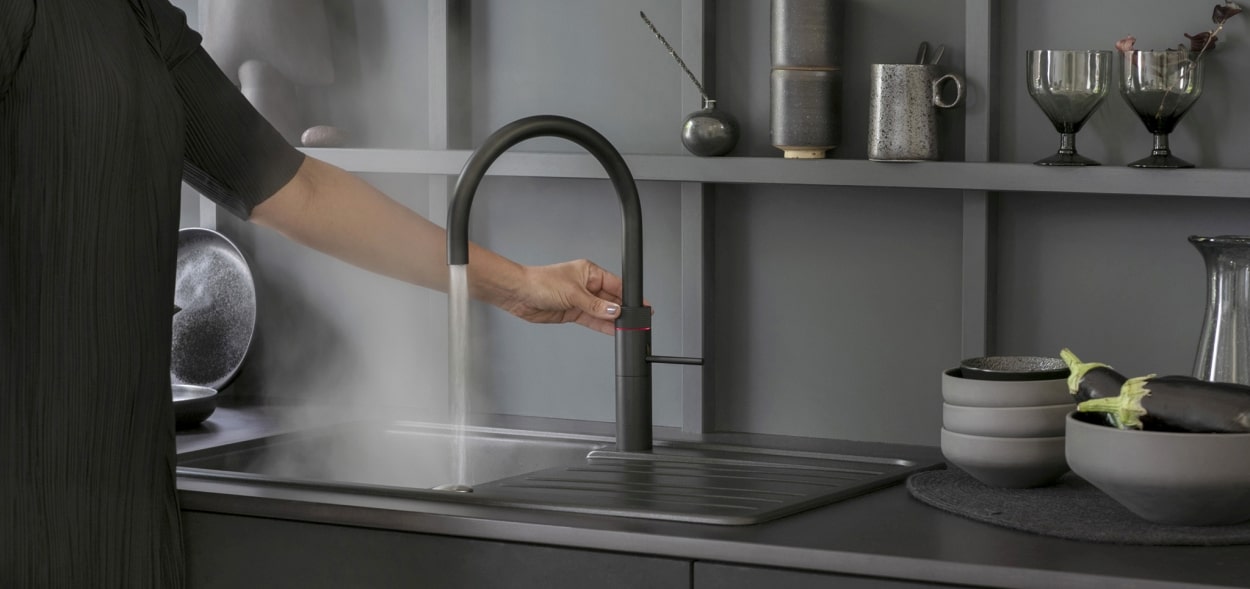 Image credit: Quooker
One of the best-known names in the boiling water tap business, Quooker has created a very stylish boiling water tap called Fusion. It's incredibly safe thanks to its double-push-then-turn switch and it also comes with a red warning ring of light that tells you your water is being boiled.
You've got a choice of two tank sizes: standard 3 litres or a mammoth 7 litres, which is ideal if you have a large household of tea drinkers. It's has a minimal and clean design and is available in a range of colours including matt black, chrome and gold. Perfect if you want to match your boiling water tap to your cabinet handles. 
Learn more at Quooker.co.uk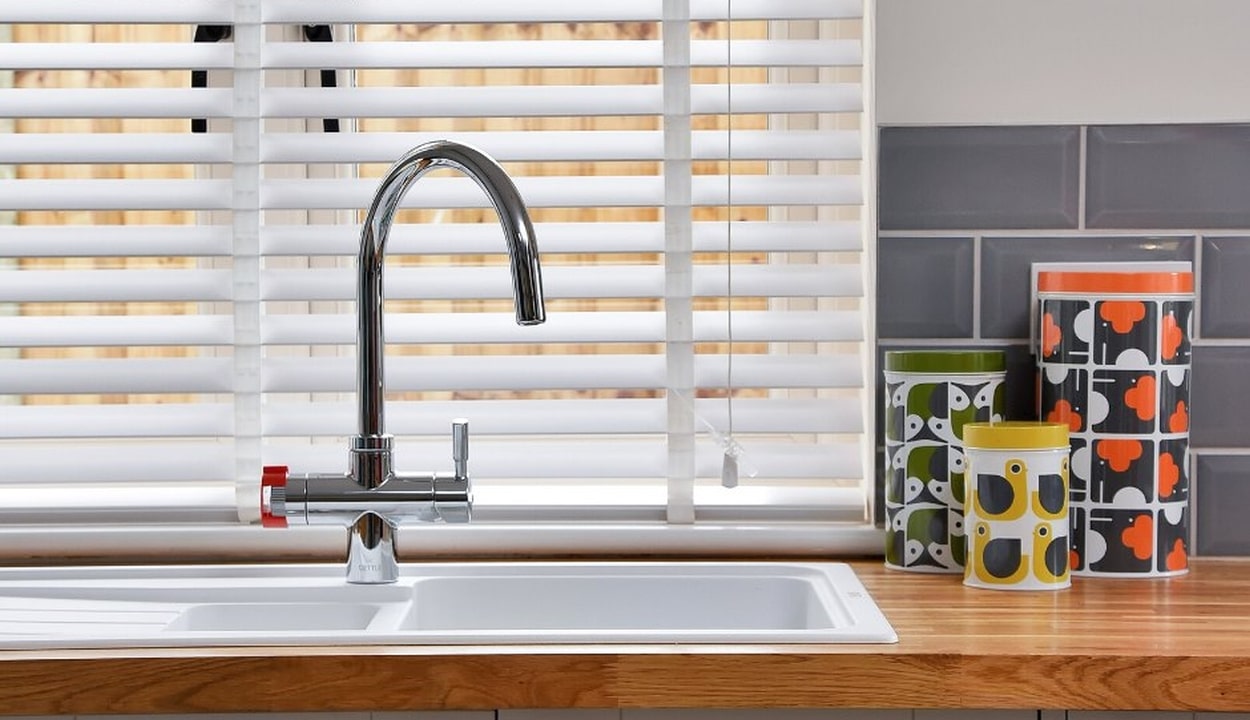 Image credit: Qettle
The Qettle Original is a 4-in-1 tap, combining hot, cold, filtered cold and filtered 100°C boiling water all in one tap. It's available with a choice of 2, 4 or 7 litre tanks and like the others in the list has a 2-stage safety system to avoid burns.
A great bonus of the Qettle system is the fact it takes just 10 minutes to reheat once the tank runs dry (on the 4 litre version). The LED display on the tap lets you know when the filter cartridges need to be replaced too and – here's a plus point – they're recyclable. 
Learn more at Qettle.com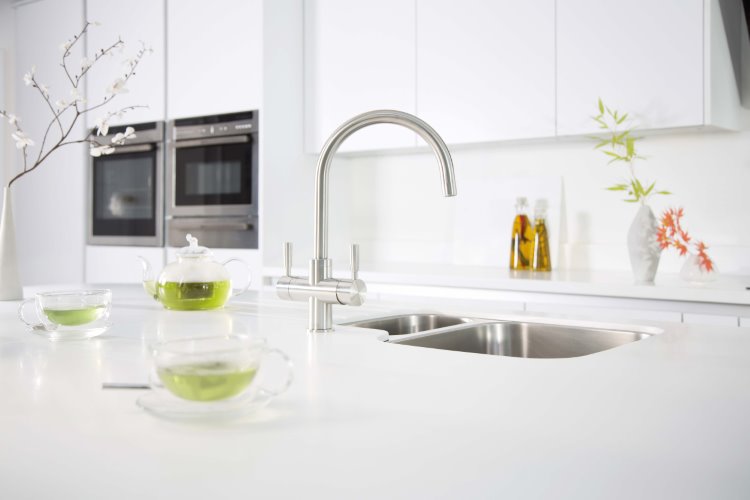 Image credit: Franke United Kingdom
The Omni by Franke is another 4-in-1 tap; in fact they claim to be the world's first mechanical 4-in-1 kitchen mixer tap. The Omni gives you 100°C boiling water, plus filtered cold water and then mains hot & cold water too, at the turn of the switch.
Thanks to the filtering system you, bottled water in the fridge is a thing of the best and it's easy to maintain too – Franke say that changing the filter is as easy as changing a light bulb. There's even an LED light that will alert you when the filter needs a change – roughly every 6-9 months.
If you've got young children then this could be the best boiling water tap for your home, as Omni comes with a childproof push-to-activate spring-loaded lever, aiming to keep boiling water away from little hands! As an extra layer of security, there's a child safety clip included with the tap, and the tap itself stays cool even whilst producing boiling hot water.
The product comes with a 3-year guarantee and is extremely easy to install for both new and existing kitchens.
Learn more at Franke.com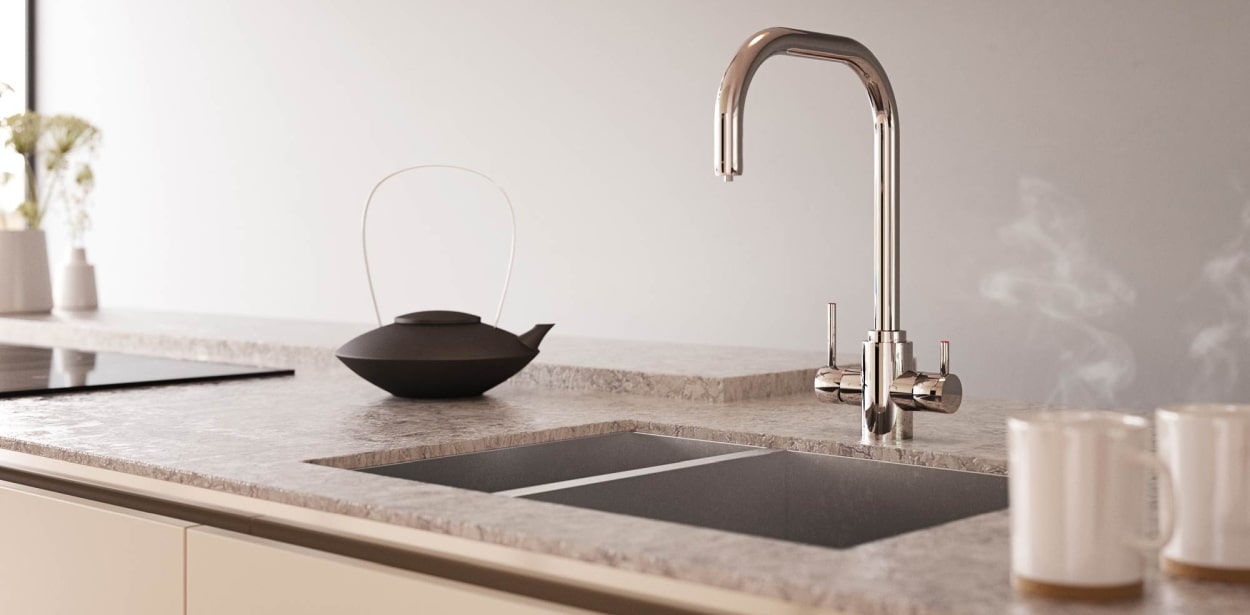 Image credit: Roux
A surprise entrant from chef Michel Roux Jr's company, Roux Kitchens, the Roux Monaco hot water tap is one of the pricier options on our list. But it's a very stylish piece of kit that wouldn't look out of place in any luxury kitchen. It's available in a choice of metallic colours too: chrome, brass or gold.
The tank is on the smaller side at 2.4 litres. However, it comes with a handy touchscreen that's easy to use to set your desired temperature, up to 99°C. It also uses some nano filtration paper to keep the tank free of limescale. This paper should be changed every six months or so.
Learn more at RouxKitchens.com
7. Zip HydroTap All-in-One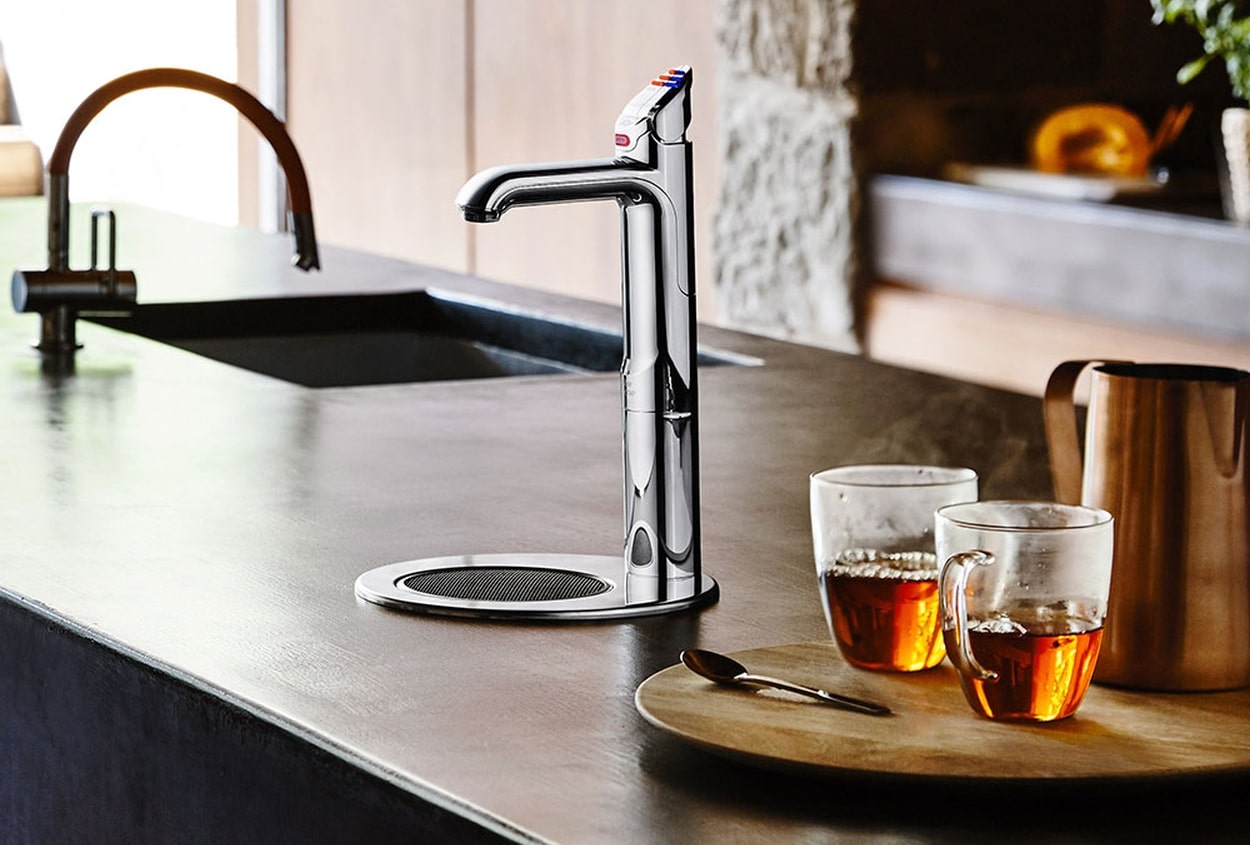 Image credit: Zip
A bit of an unusual final entry is the Zip HydroTap All-in-One Classic. Easily the highest priced on the list, this is a great looking chrome tap for those who want something just a little bit different.
The tap comes with a standard tank size of 3 litres which is more than enough for most homes and offers filtered boiling, chilled and sparkling water plus unfiltered hot and cold water.
Learn more at ZipWater.co.uk
Conclusion
In conclusion, as with any appliance, it's worth doing your research before deciding which boiling water tap to choose.  It's a great addition to a new kitchen and, as with the products above, the features don't vary too wildly.
So choose the one that dispenses water in the style you're most likely to use (e.g. boiling or sparkling) and in the size that's right for your family. And finally, opt for the tap that will look the most aesthetically pleasing in your new kitchen.