The fridge freezer is arguably the centrepiece to your kitchen. You'll use it all day, every day. So, naturally, selecting the best fridge freezer to suit your needs and your space is imperative to creating your dream luxury kitchen – and is worth investing some careful thought and research into.
The perfect fridge freezer will keep your food fresher for longer, will make your kitchen look amazing, and thanks to a wealth of state of the art new technology and features, will make your life easier, too.
From types of fridges, to sizes and the best new features to look for, here's everything you need to know when it comes to selecting the perfect fridge freezer.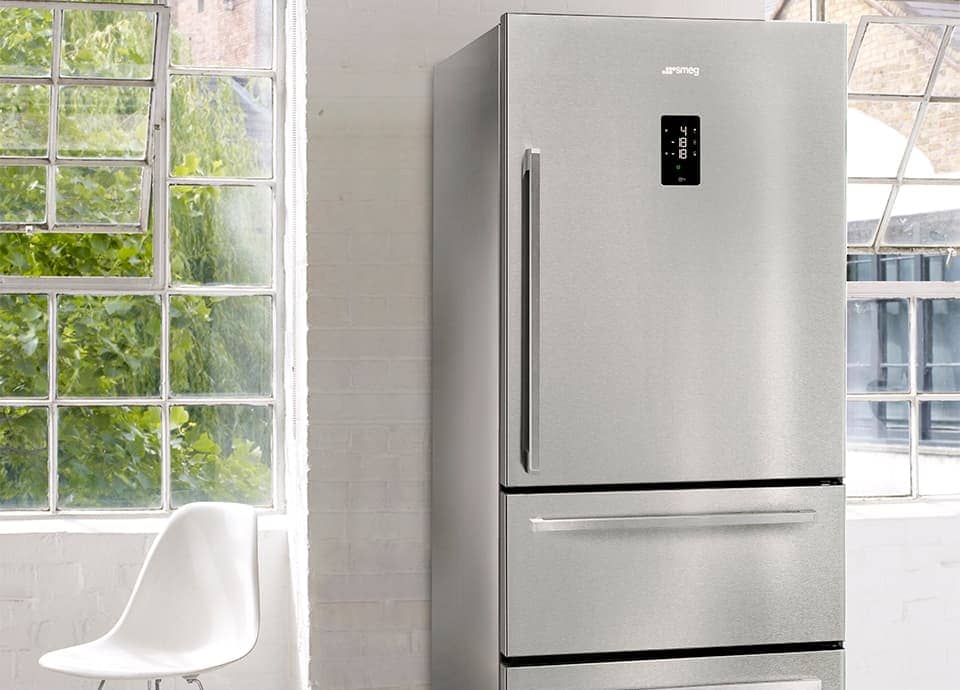 There are many types of fridge freezers available to choose from, and the ones which suit you best will depend on how you commonly use your fridge, and the space you have for it.
The most common type of the fridge freezer in UK households is the combination fridge freezer, like Smeg's double door range, which has the refrigerator stacked on the top half of the unit and the freezer on the bottom half. These are popular because they provide ample food storage space in both sections, while occupying minimal floor space in a compact kitchen.
At the same time, ask yourself how much of a split you actually want between fridge and freezer space – it may be that your frozen needs would be better suited to a smaller icebox compartment, with the rest of the space dedicated to refrigerating, as with the 50s-style Smeg double door design.
Other choices
These common combination fridge freezers are not your only option, though. If you would like more space, a wide American-style double-door fridge freezer, or one of Smeg's impressive four-door freezers could be the ideal larger size for your needs.
Further, this also gives you greater flexibility on creating the combination of fridge/freezer compartments which works best for you: these units even come with a convertible compartment which can switch between fridge or freezer, depending on the groceries you have at any given time.
There are even intelligent appliances that connect to apps and smart assistants. We already did this in our roundup of the best smart fridge freezers on the market.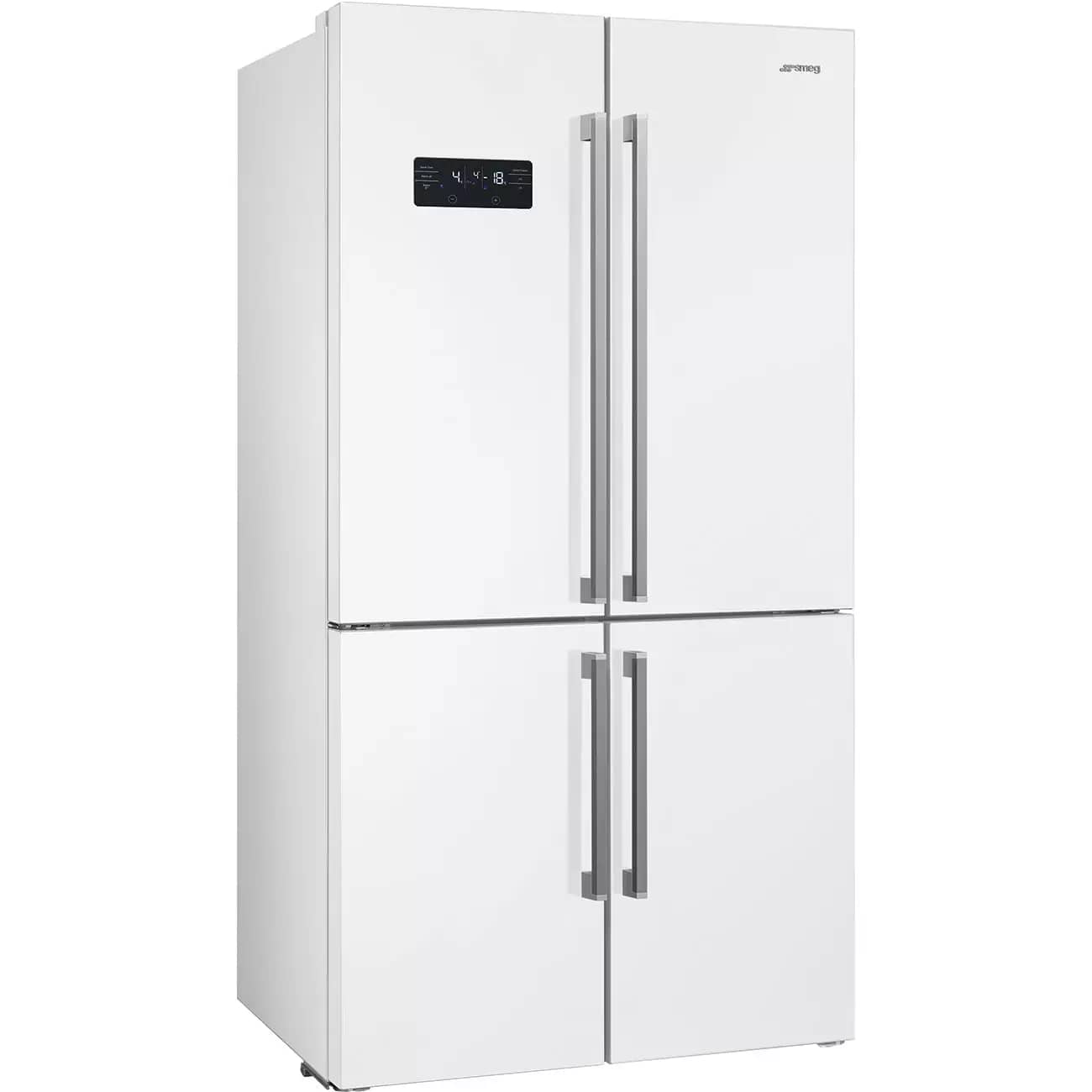 What size of fridge freezer is best for me?
The standard UK size for a tall combination fridge freezer is 60cm wide and over 130cm in height, but wider versions of the same design are also available if you would like more space. However, smaller separate fridges and freezers tend to measure 85cm, which is the standard height for fitting under a kichen worktop.
The size you opt for should ultimately bear in mind the space you have in your bespoke kitchen and the needs of your home. If you have a smaller space to use, but want to maximise your storage, clever interior features such as adjustable shelves, extendable drawers and bottle racks can help make the most of your space, too.
It's also worth remembering that a greater external space does not always equal more internal food storage space, so be careful to take into account the internal and height measurements of a fridge freezer and its internal drawers and shelves, as well as the floor space it will occupy.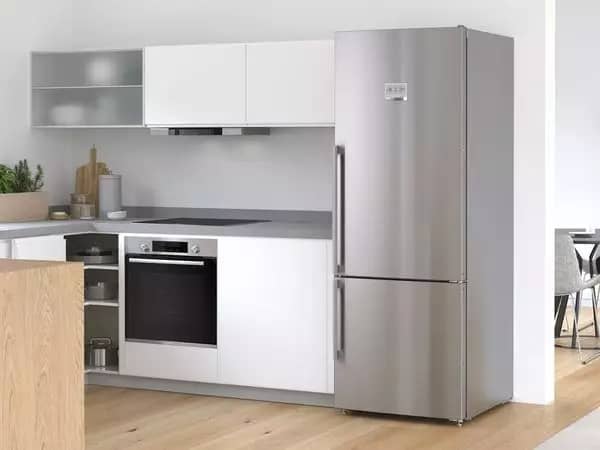 Fridge freezer running costs
A fridge freezer is always turned on, so it's one of the most important appliances to consider the energy efficiency of, both to save money on your bills and help the environment.
Generally, a fridge freezer will cost around £60 a year to run, although how much electricity it uses will also depend on its energy efficiency and size.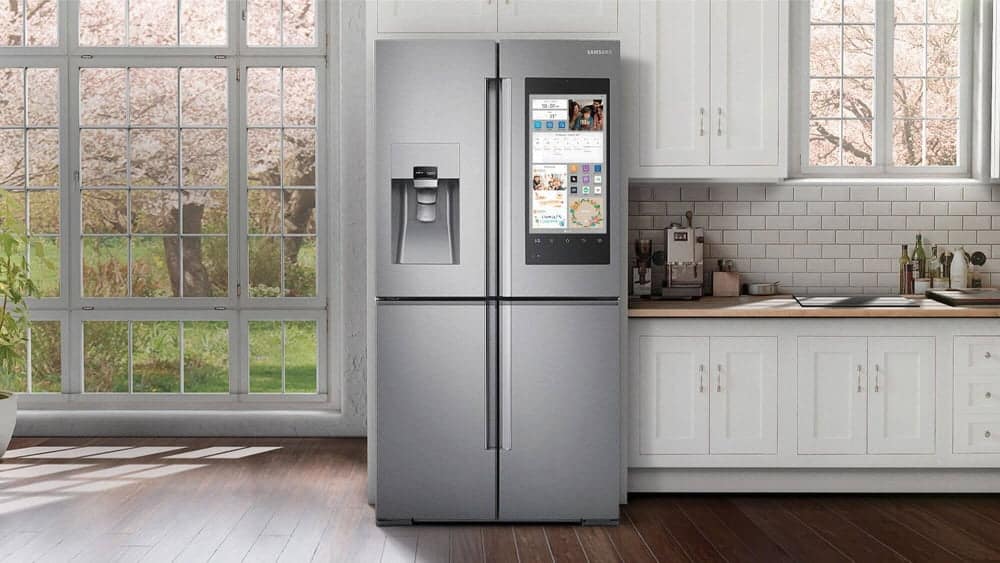 Latest fridge freezer features & technology
Fridge freezers have come a long way from simply being a place to keep your food chilled. Essential features, like having transparent freezer drawers to easily see what's inside, having a manual or analogue thermostat to control the interior temperature, and adjustable shelves are all worth looking for to fulfil basic daily needs from your fridge.
As the home becomes more intelligent, so do our kitchens with. There are the smart, innovative and state-of-the-art features which use the latest technology to really take your fridge freezer to the next level. From built-in water dispensers and ice makers, to frost-free freezers, acoustic and visual door alarms, fast freezing, and Wifi-enabled smart fridges, these all play a part in creating a truly luxury fridge freezer solution.
Read our guide to the best smart fridge freezers to learn more.
Smeg's Active Ion system, for example, uses high-end tech to keep your fridge in pristine condition by neutralising the bacteria and other impurities which cause unpleasant food odour.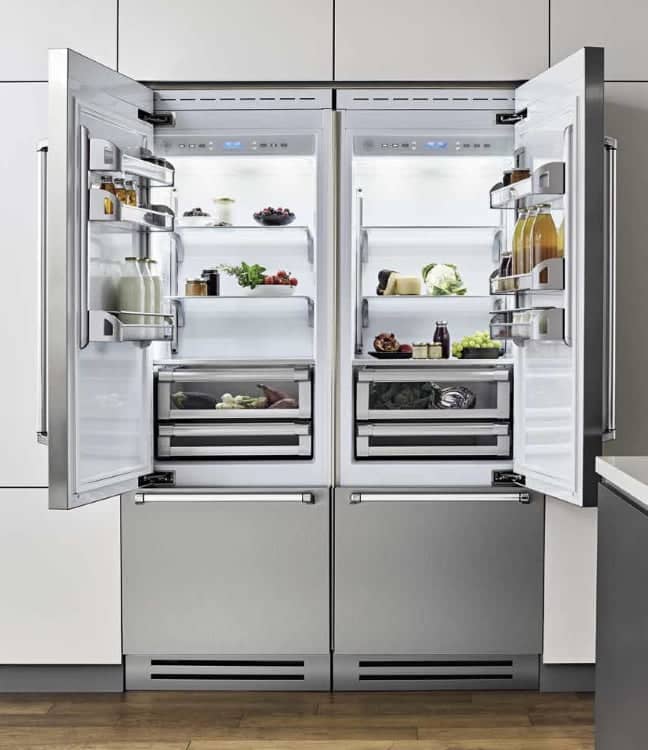 Choosing the perfect fridge freezer style
One of the biggest aesthetic questions to consider when selecting your new fridge freezer is whether you want it to be integrated to blend in with your kitchen units, to look seamless as part of a fitted kitchen, or whether you'd like a freestanding fridge freezer, which allows you more freedom when it comes to the style, size and design of the appliance.
This will of course vary depending on whether you're looking for a modern kitchen or perhaps looking at more traditional kitchens for the aesthetic that matches your home and your style.
Depending on how it suits the overall look of your kitchen's interior design, a freestanding model can also be used to create a focal design point for the room and add personality, by choosing from a huge range of colours and designs – from the most sleek and modern stainless steel stylings of Smeg's American-style four-door fridge freezers to their iconic, bright 50s retro colourways. These work great in our Shaker kitchens.
To really make a high-end style statement, you can even consider designer collaborations, like Smeg's unique Dolce and Gabbana range, which comes hand-painted by Sicilian artists, and transforms your fridge into a work of art in itself.
YOU MAY ALSO BE INTERESTED IN...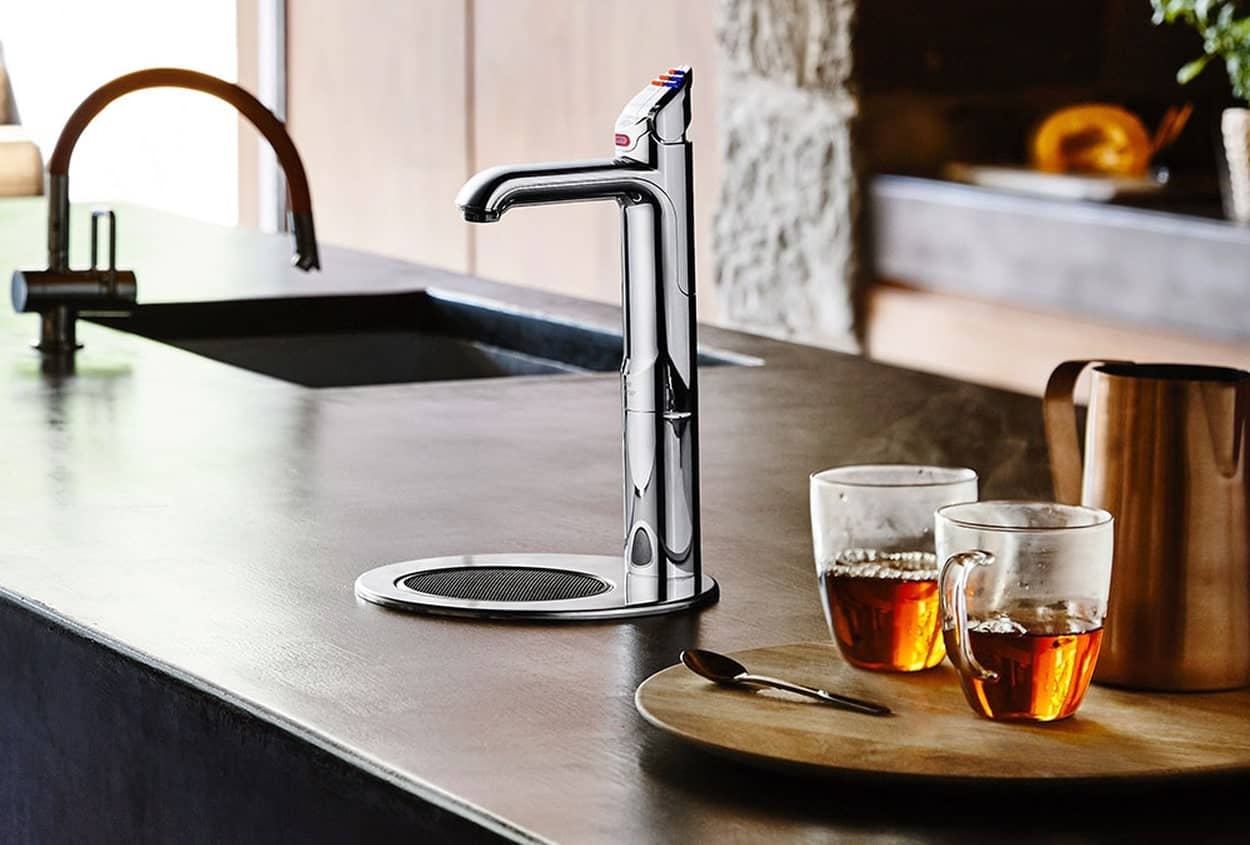 Boiling water taps: which is best?
Best appliance layout for you