Explore our stunning range of beautiful, British-built kitchens by requesting a digital brochure, delivered to you by email.
Our premium kitchens are available to view at a number of boutique showrooms across the UK.
Your data is held securely in an encrypted database which complies with all GDPR regulations in the United Kingdom. Your data will never be transferred or otherwise provided to any company that doesn't directly relate to Kesseler UK Limited or our retail partners.
Using the form above, if you provide us with your postcode and contact information then we will use this to identify your nearest Kesseler showroom. We may pass your details onto the showroom so that they can contact you to discuss your project, answer your questions or arrange a showroom appointment or home visit for measuring. 
In addition, your contact information (name & email address) may be added to marketing list for a series of emails over a 6-10 week period. The content of these emails will contain useful tips, advice and information that is relevant to consumers planning for a new kitchen. You will have the ability to opt out at any time.
Submission of this form is considered acceptance of the above terms.
REQUEST OUR
2023 BROCHURE
explore our range of beautiful British kitchens starting from £20,000 exclusive of appliances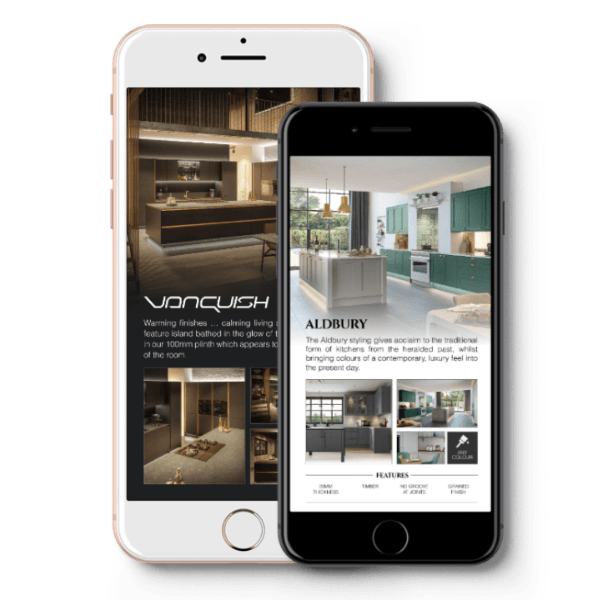 Since you're using a mobile device, you'll be able to download and read our brochures in mobile-friendly format.
Don't worry, we'll email you a link so you can read the desktop & tablet versions later.
INSIDE, YOU'LL EXPLORE...
Read about the Kesseler story, discovering what makes us, our clients and our kitchens unique. You'll also learn about our award-winning Vanquish true handleless kitchens and discover our wonderful Shaker and country-chic kitchen collections, destined to inspire you for your upcoming kitchen project.
A member of our concierge team will say hello to see if you have any questions and your nearest Kesseler showroom will be delighted to discuss your new kitchen designs, ideas and more with you to elevate your home and provide you with an alluring kitchen to be proud of.