Fall in love with your new Kesseler kitchen space thanks to incredible features that enhance and elevate your home improvement project. There's a wide range of special luxury kitchen features, upgrades and supplementary rooms all built using our furniture. Everything is built to the unmistakable high of standards that you'd expect from Kesseler.
From additional rooms such as utility rooms, walk-in pantries and more to the finishing touches like boiling water taps, smart appliances and worktops, there's lots of exciting choices to make as you plan for your new kitchen.
Here's some of our favourite features and essentials to consider as part of your project plans. Your local Kesseler showroom will be delighted to discuss any of these in more detail with you.
stunning contemporary kitchens, built in Britain.
Invest in a modern kitchen from Kesseler to enhance your property for you and your family. At Kesseler, we pride ourselves on producing state-of-the-art modern kitchens for contemporary homes.
These truly bespoke, made to measure kitchens include our award-winning flagship Vanquish true handleless kitchen range – an elegant and stylish modern kitchen collection that has received critical acclaim from House Beautiful. For those seeking modern kitchen styling but with exquisite handles, our Contemporary kitchens collection is guaranteed to delight.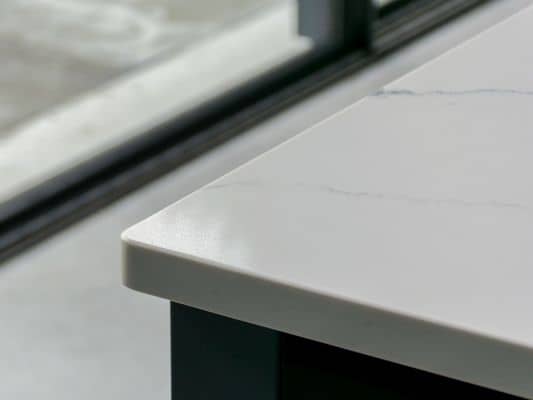 Worktops
A beautiful work surface can finish off your new luxury kitchen perfectly, whether you choose a stunning man-made surface such as Laminam or Dekton or opt for gorgeous natural stone finishes such as quartz, granite or marble.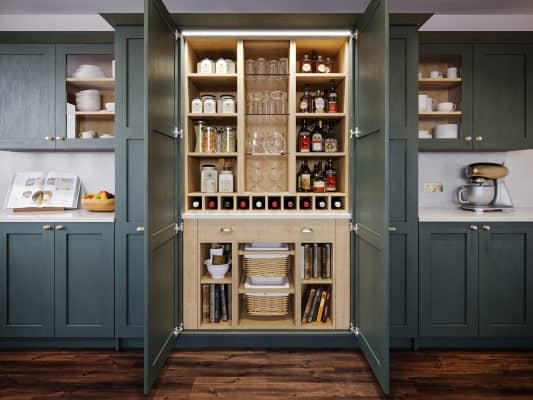 Butler's Pantries
Elegant storage with soft lighting in the form of a Butler's Pantry can be a fantastic way to store food, drinks, glassware, wine and much more. A Kesseler Butler's Pantry can be had in a range of configurations to suit all requirements.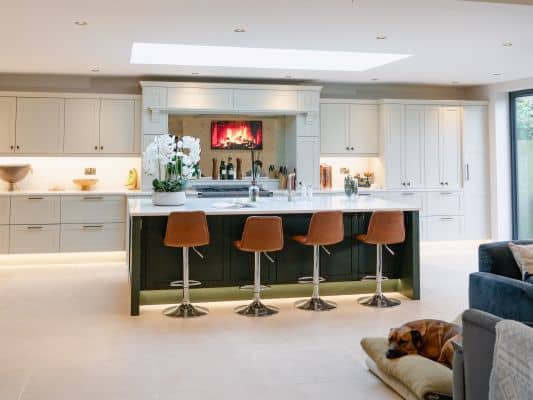 Islands
A central, focal point in the kitchen, an island can be a place for cooking, eating, socialising, working and more. For those wanting to cook, downdraft hobs remove the need for overhead extraction and additions like Kaelo make social kitchen drinks fun.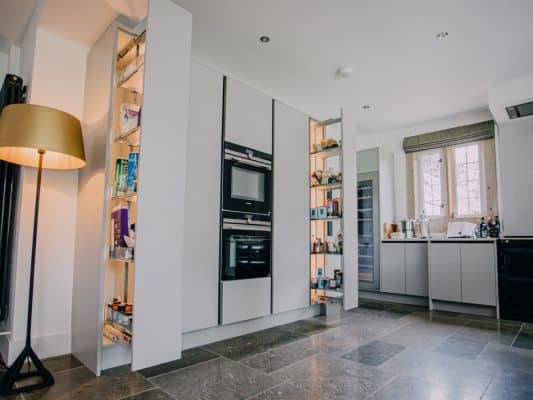 Elegant Storage
A popular choice for many Kesseler clients; a pull out larder can be full or worktop height, gliding out to reveal it's contents with aluminium and glass-sided storage comparments plus soft, motion sensitive lighting.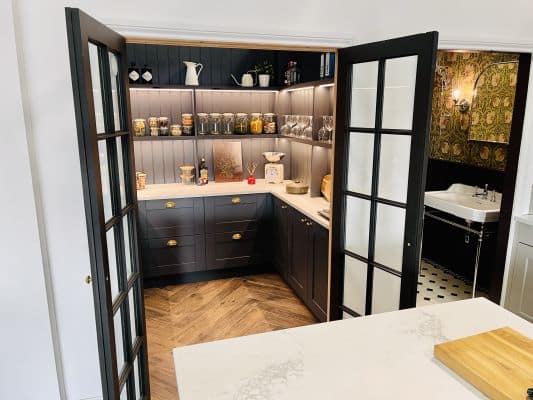 Walk-In Pantries
An extension of your kitchen, a bespoke walk-in pantry is a beautiful way to store your dry food and other items. Your walk-in pantry helps keep the main kitchen free of clutter and can be completely closed off from the rest of the space.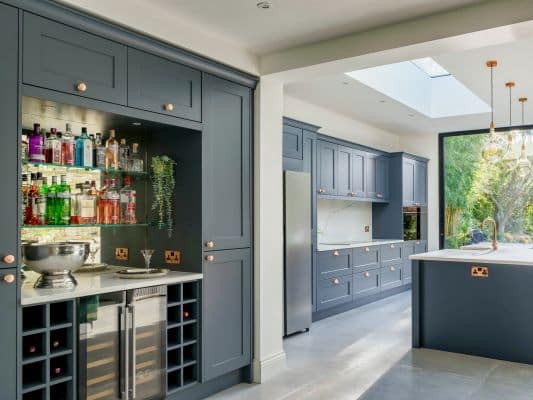 Home Bars
Store your favourite beverages in style; perfect for entertaining. Your bespoke home bar can comprise of glass shelving and cabinetry for glassware and spirits, optics for serving, wine racks for display & storage plus refrigeration built in.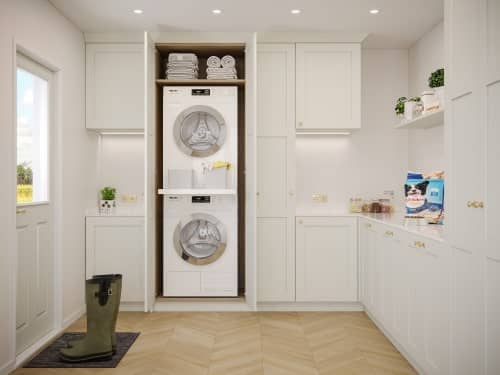 Utility Rooms
Continue the theme of your kitchen or opt for something totaly different. Depending on space, your utility room can include appliances such as a washing machine & tumble dryer, plus a sink, ironing board, clothes storage and space for food.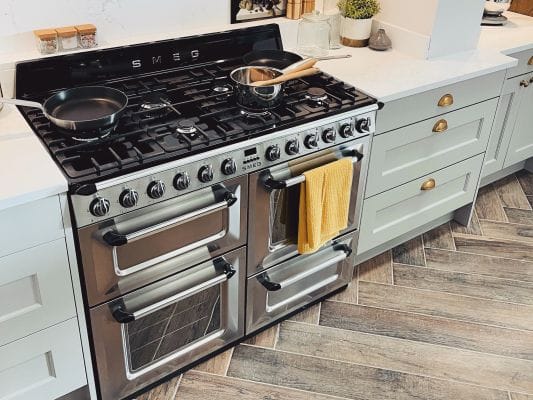 Appliances
A kitchen isn't complete without appliances. Essentials include ovens, refridgeration and freezers, with optional luxuries such as coffee machines, tappinyaki plates, induction hobs, microwaves and many more.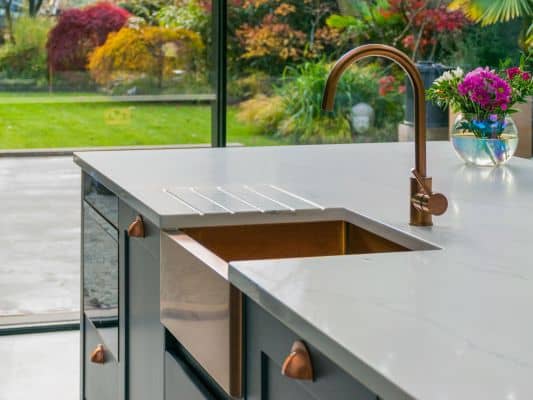 Taps & Sinks
Kesseler showrooms offer beautiful ranges of taps and sinks. Pair either a modern metal or a traditional ceramic sink with elegant taps, or upgrade to boiling, filtered and sparkling water taps. There's so much choice.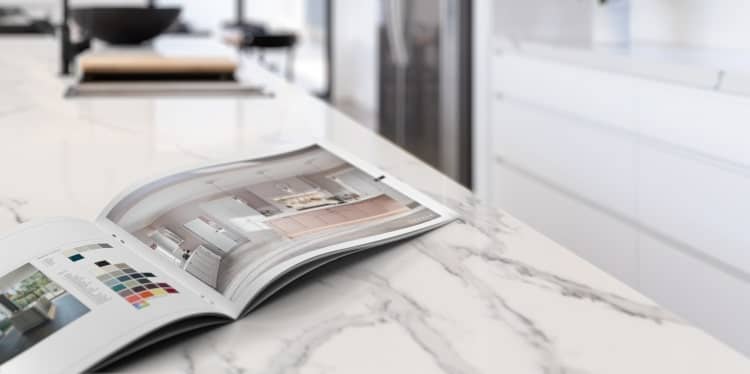 Get a digital copy of our latest brochure emailed to you, allowing you to explore and learn more about our range at your leisure.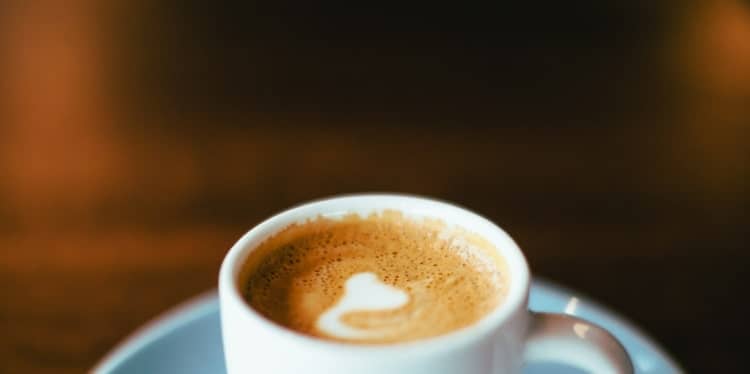 Book a complimentary, no obligation call with your nearest designer to discuss your upcoming project and ask questions.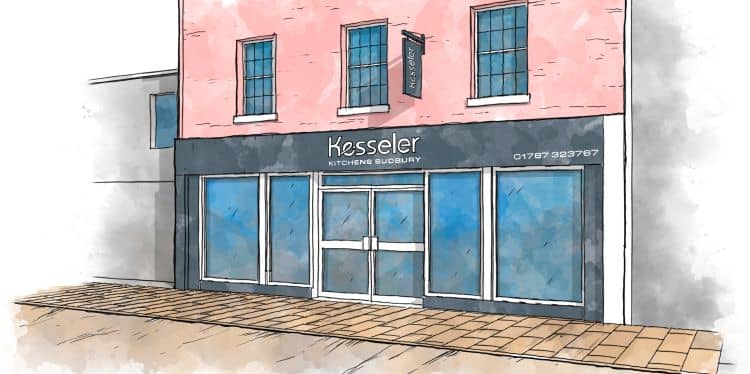 Our boutique showrooms span the country, showcasing our stunning kitchens and with class-leading designers.