There are three elements to a kitchen: the cabinetry, the accessories, and the worktop. Often, it's the worktop that's the hardest to choose.
The kitchen worktop is subjected to heat, chopping and spills. And if you have small people in your family, you can also add pens, paint and other creative paraphernalia. When it comes to choosing a kitchen worktop for a luxury kitchen, you want something that complements the cabinetry, and the style and design of the kitchen. But you also need a worktop that works for your lifestyle too.
In this article, we explore the options available to you when you're planning your new luxury kitchen and are considering your worktop choices. Of course, the designer at your nearest Kesseler showroom will only be too happy to advise.
So what are the most popular choices right now when it comes to kitchen worktops?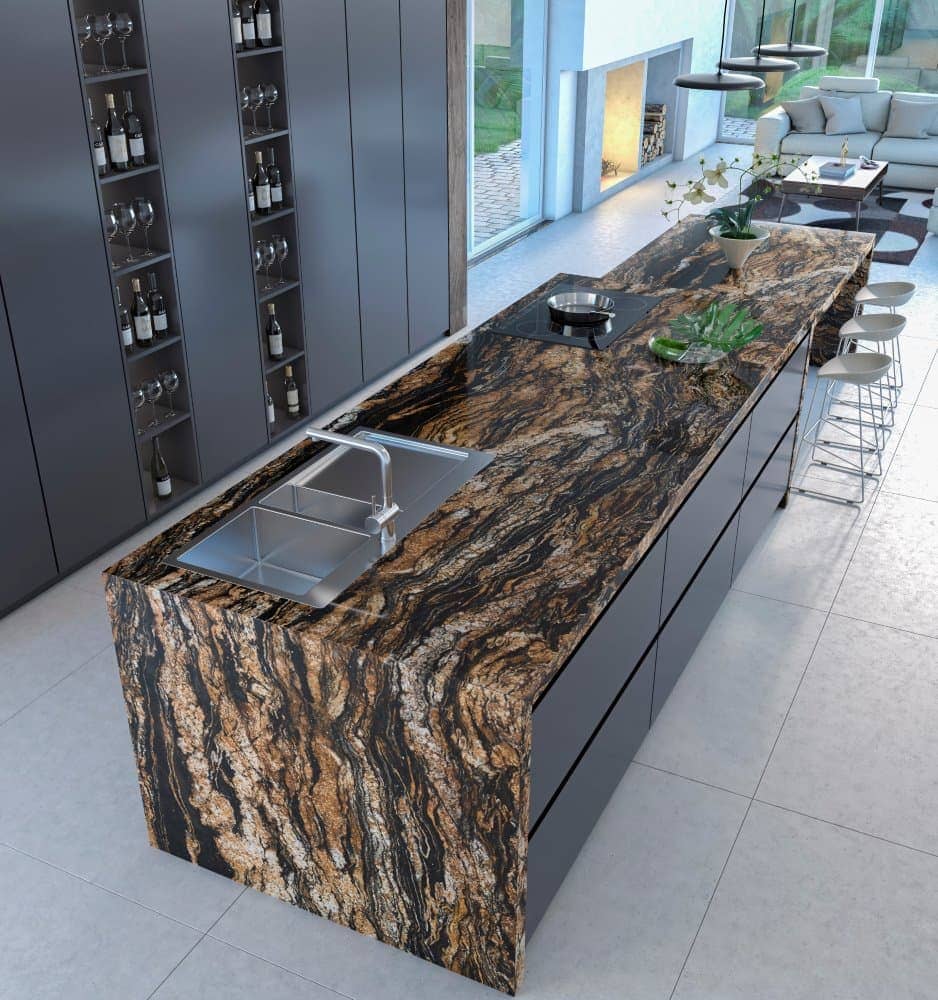 Granite is a natural rock material that's strong and hardwearing but also looks incredibly luxurious and stylish which makes it an ideal worktop for any premium kitchen. As it's a natural stone, the mottling, veins and markings differ from slab to slab, so no two granite worktops are the same.
Granite is available in a natural colour palette from whites and light grey through to dark grey and black, so it works beautifully with a whole range of kitchen cabinet colours.
What are the advantages to having a granite worktop?
It's a cold, smooth surface so ideal for pastry making
Granite can withstand heat, so you can place a hot pan or plate straight on to it
It's incredibly strong, so much so that it will blunt a blade if you cut food on it (we recommend using a chopping board)
And it's very hygienic and easy to clean with warm water and detergent (avoid acidic cleaners though)
Any drawbacks to granite?
 It can't be repaired if it gets damaged
As granite is porous, your worktop needs sealing every three months ideally
For granite kitchen worktops, Kesseler recommends Konigstone.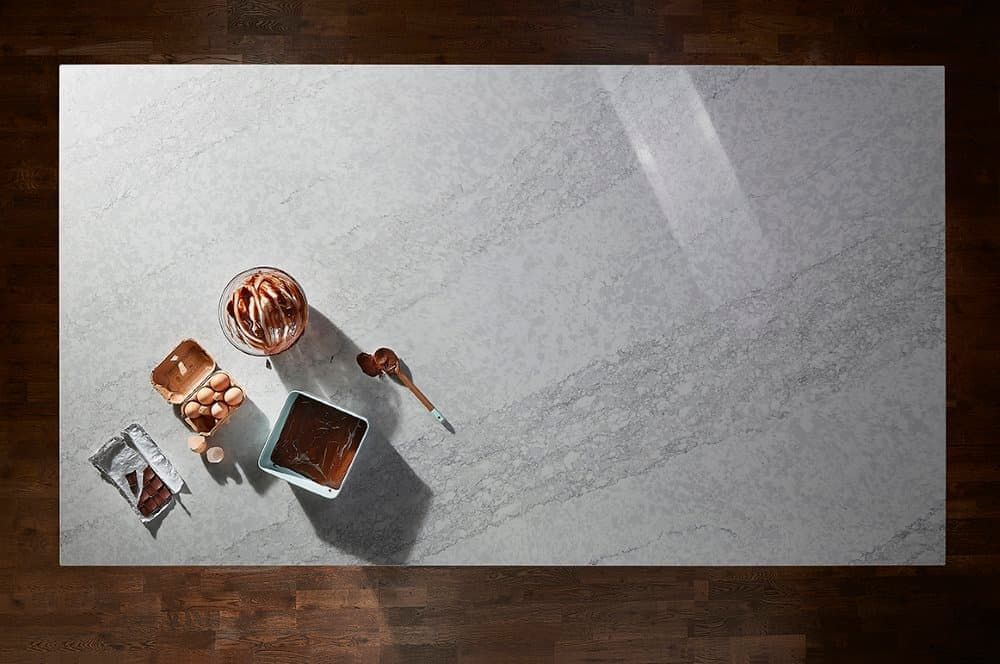 A quartz kitchen worktop is made from natural quartz, resin and colour pigments, and although manmade, it has a natural stone quality and durability.
Quartz comes in range of finishes such as solid, with flecks and with marbling, and in a number of colours too from creamy whites to inky blacks. The concrete-style finish looks particularly attractive in a modern kitchen.
What are the advantages to having a quartz worktop?
Because it's manufactured, quartz has a consistent look and feel in terms of colour and texture
It's low maintenance and resistant to stains and scratches, making it ideal for busy family kitchens
It's non-porous so doesn't need sealing
Quartz is easy to clean with a damp cloth and a mild detergent
It can be customised according to your kitchen design in a range of colours and textures
Any drawbacks to quartz?
Quartz can't handle too much heat so it's worth using a worktop saver before placing a pan on the counter
It's a higher cost than similar granite worktops
Quartz worktops are man-made, therefore have less natural beauty and unique veining than granite
For quartz kitchen worktops, Kesseler recommends the König Quartz range from Königstone.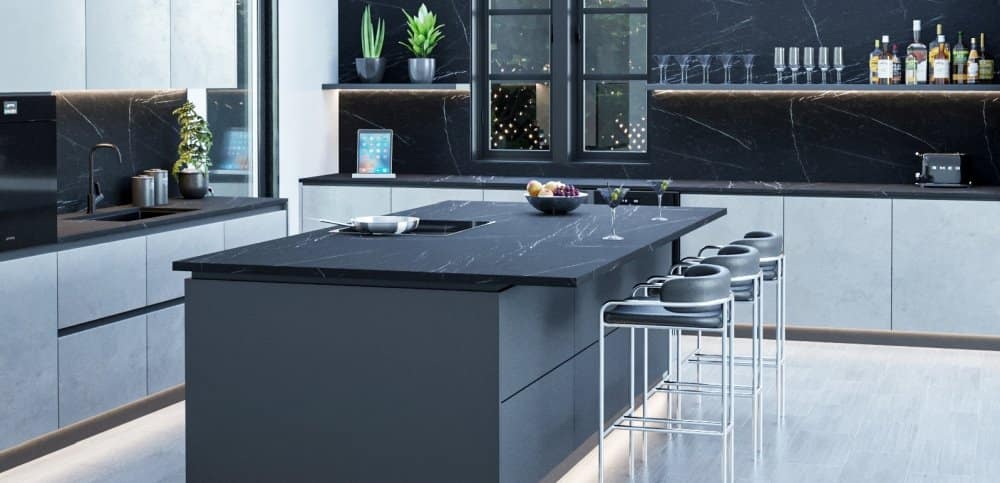 Loved by designers and architects, ceramic worktops are made from minerals that originate from quartz, plus minerals from glass and silica, and oxides that affect the colour.
These elements are combined at high temperatures under high pressure to create a durable and beautiful material that's harder than quartz and granite but much thinner, giving you a clean, modern look for your kitchen.
What are the advantages to having a ceramic worktop?
A ceramic kitchen worktop is scratch-resistant so you can cut directly on to the surface
And as it's non-porous, it's stain- and moisture-resistant too
Ceramic is more resistant to heat than granite or quartz so you can place a hot pan straight on to the counter
A large selection of colours and textures are available, so it's easy to match to a particular kitchen theme
Ceramic is hygienic and easy to clean as it doesn't absorb water or odours. Simply use a damp cloth and warm water. Avoid cleaning products containing bleach
Veins can be book-matched for waterfall worktops or extended splashbacks for a stunning visual effect
Any drawbacks to ceramic?
Because of the production methods, ceramic costs more than quartz and granite
Ceramic worktops are fired in ovens so there's a limit on the width and length of the slab. For large worktop or an island, a separating edge will be visible
Some ceramic worktops are also heat resistant which means you can put hot pans on them without needing a protector or trivet.
When it comes to ceramic worktops, Kesseler recommends both Dekton and Laminam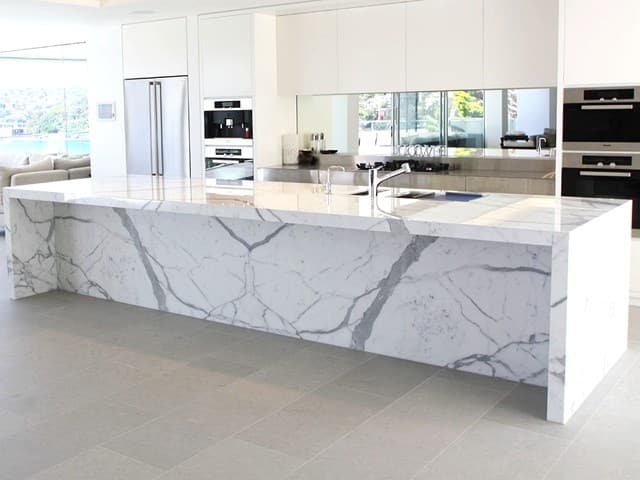 Marble is a beautiful and luxurious natural stone that immediately gives any luxury kitchen a high-end feel. Cool and smooth to the touch, marble kitchen worktops are available in a range of colours including traditional white, which shows off the veining, as well as black, brown, rose and grey.
What are the advantages to having a marble worktop?
With the right care and maintenance marble is long-lasting
It's heat-resistant too so hot pans can be put straight on to the counter
Marble is a robust material so food can be cut directly on to it
It's smooth and cold to the touch making it ideal for pastry making
Any drawbacks to marble?
Marble is a softer stone, so it's vunerable to scratches, nicks, cracks and breakages
It's more porous than granite so it absorbs food spills and stains more easily unless it's been professionally sealed
Marble is one of the higher cost options for a luxury kitchen worktop
Some manufacturers won't give a warranty for a marble worktop if it's used in the kitchen, as the area is deemed too high traffic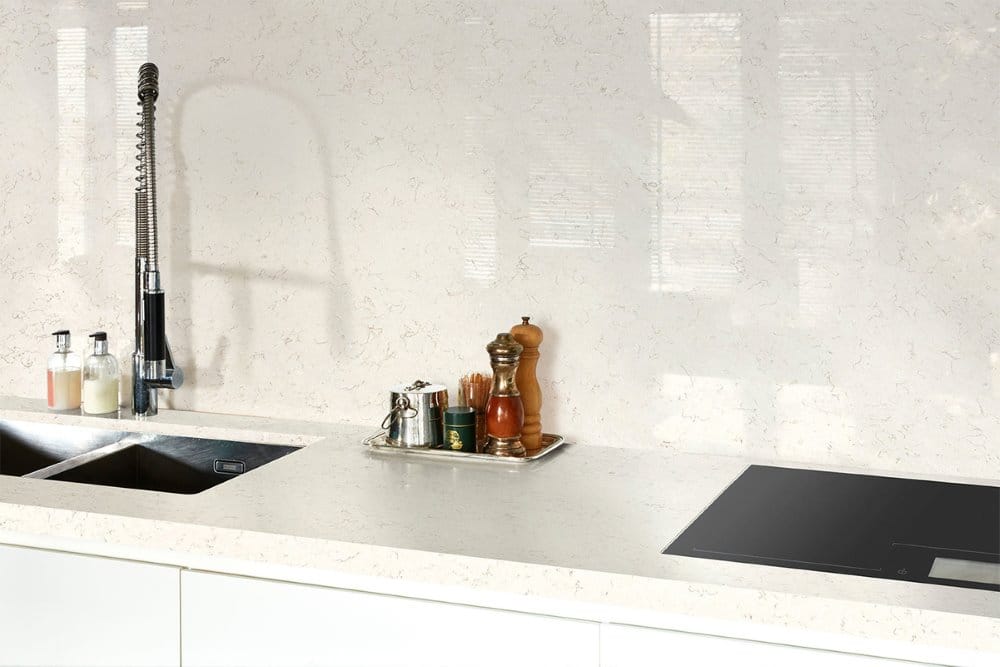 Corian® is a solid surface material made from a mineral filler and acrylic resin which is then bonded to a timber substrate. It was launched by DuPont back in the 1970s with only one colour option. Today it's available in more than 100 colours, so there's plenty of opportunity to get creative.
What are the advantages to having a Corian® worktop?
It comes in one large sheet, so you get a seamless finish and no visible joints
It's easy to match a Corian

®

worktop to a kitchen's design or colour scheme
Because it's non-porous it's resistant to stains
Corian

®

is durable and hardwearing so will last years
It's hygienic and dirt- and bacteria-resistant, and it's easy to clean with a damp cloth and a regular cleaning spray
Any drawbacks to Corian®?  
It's less heat-resistant than granite or quartz and so more likely to be damaged with a hot pan
It's also more prone to scratches than surfaces like quartz and granite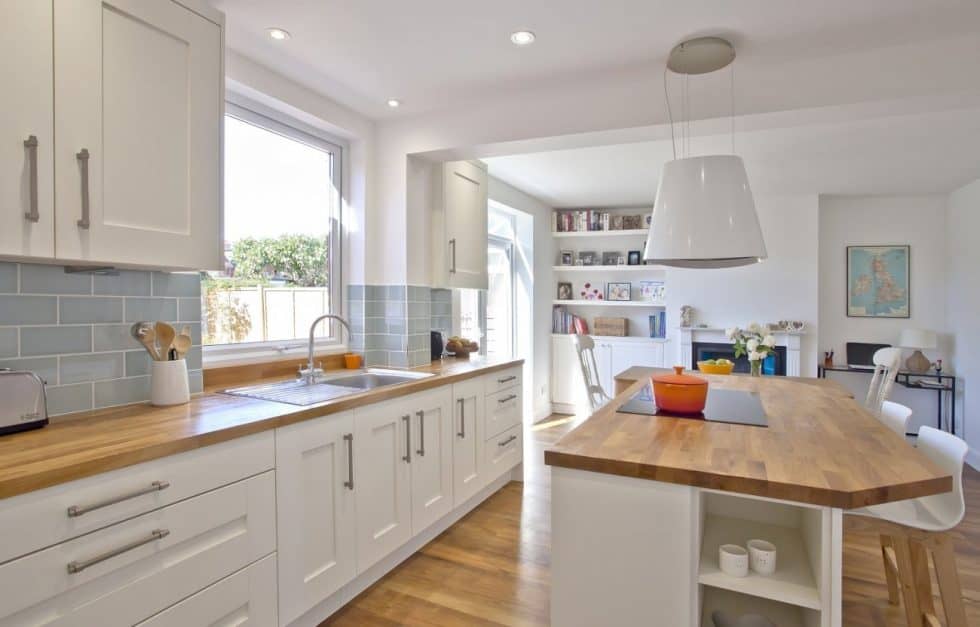 From warm oak and beech to maple and dark walnut: a traditional solid wood kitchen worktop suits all kinds of kitchen designs and colours schemes, and never goes out of style. Wood is an easy material to work with too, and as no two pieces of wood are the same, every worktop has its own unique character and appearance.
What are the advantages to having a wood worktop?
With proper maintenance, wood improves with age and deepens in colour
And damage such as stains and burns can be easily sanded away
Wood is incredibly durable and lasts years
Wood also has anti-bacterial properties, as long as it's sealed properly with a non-toxic mineral oil
Any drawbacks to wood?
It needs to be oiled regularly to keep it in good condition
If wood isn't sealed properly, water can easily damage it and cause swelling and black marks
Wood is a soft material so it's easily scratched and dented
It can be easily scorched by hot pans, so always use a worktop saver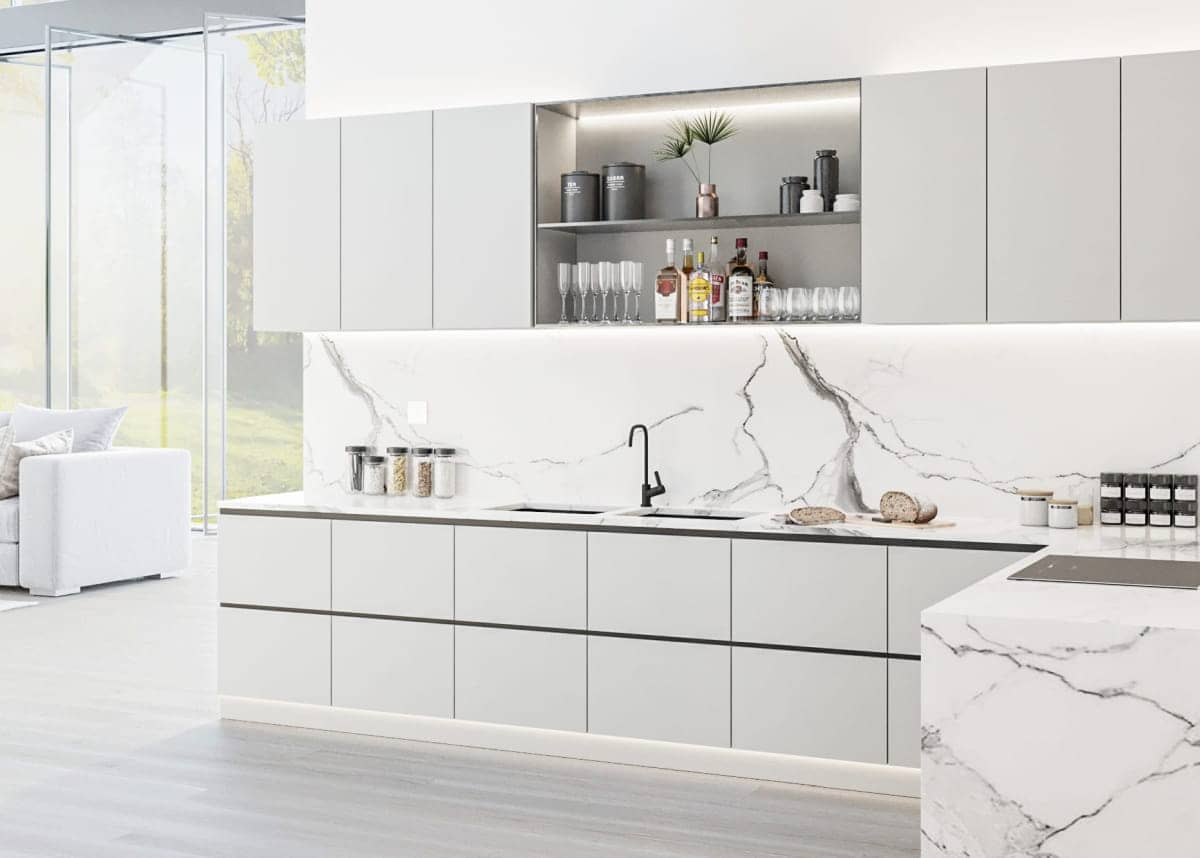 Final thoughts
When it comes to choosing a kitchen worktop think about:
Cleaning: Is your worktop likely to get covered in food spills and kids' paints? Choose a worktop that's resistant to stains and can be easily wiped down.  
Heat: Are you the kind of cook that wants to put a hot pan straight on the counter? Choose a worktop that's resistant to heat and won't get easily damaged.
Budget: You don't want to have to think about changing your worktop every few years. Allocate 20-30% of your overall kitchen budget to the worktop and choose the best quality worktop you can afford.  
Colour and texture: From natural materials to manmade options, there's an unlimited choice when it comes to colours and textures. Think about the overall look and feel you want to achieve for your kitchen and go from there.   
YOU MAY ALSO BE INTERESTED IN...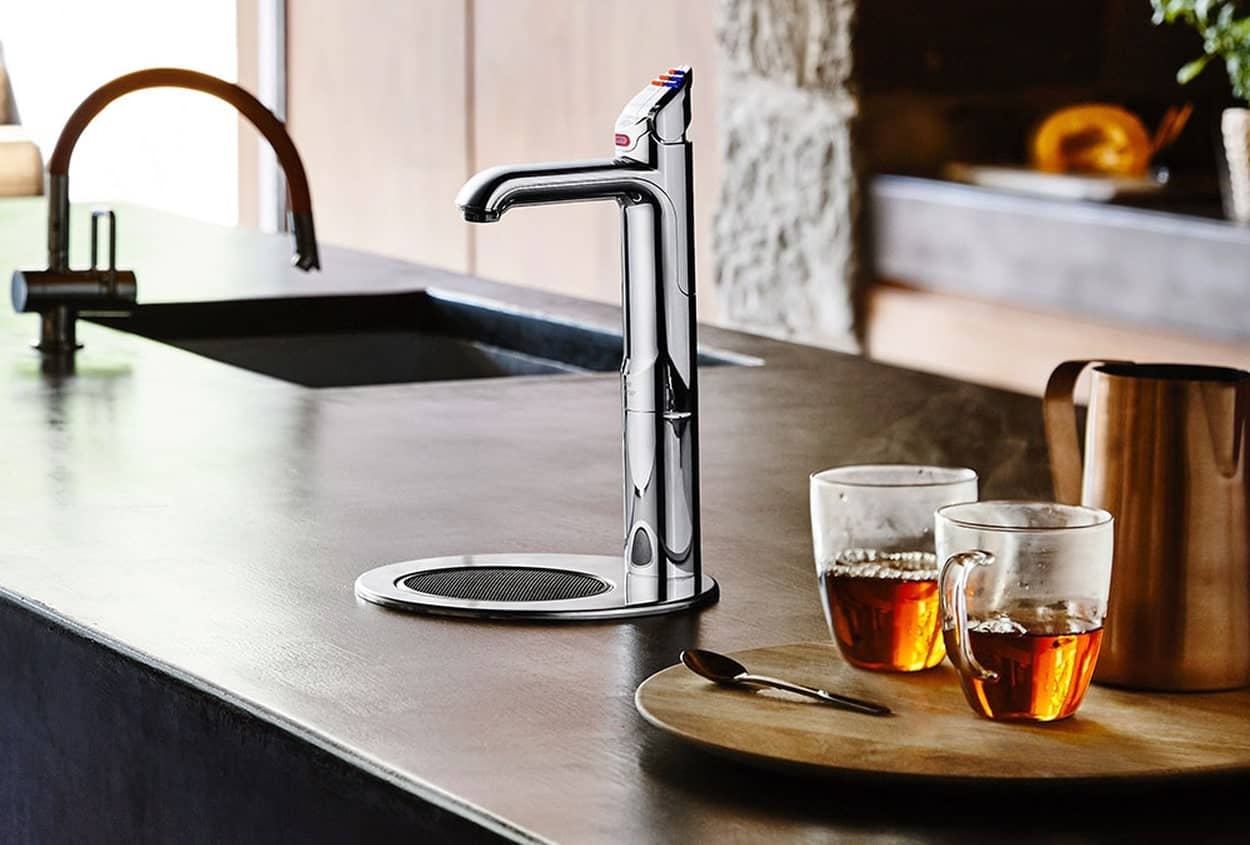 Boiling water taps: which is best?
Best appliance layout for you