Many of us have accidentally put a hot pan straight onto a worktop at some point in our lives, then suddenly panicked about causing damage to the worktop surface.
For the majority of worktops, a trivet or pan rack is needed to protect the worktop from harm. Sometimes, with some materials you're able to get away with a few seconds without damage, but only if you react quickly and remove it soon after placing the pan or baking tray down.
When planning their new designer kitchen, many clients ask us about heat resistant worktops and want to know if there are any worktops that you can put a hot pan on without damage.
Keeping a clean and tidy work environment when you're cooking is something that's vital for many people who don't want to have lots of extra accessories around when they're preparing a meal so we thought we'd give you the breakdown about different worktop options when it comes to heat resistance and tolerance to high temperatures.
For more detail on all worktops, check out our guide to the best kitchen worktops for your requirements and budget.
Why do worktops burn & mark?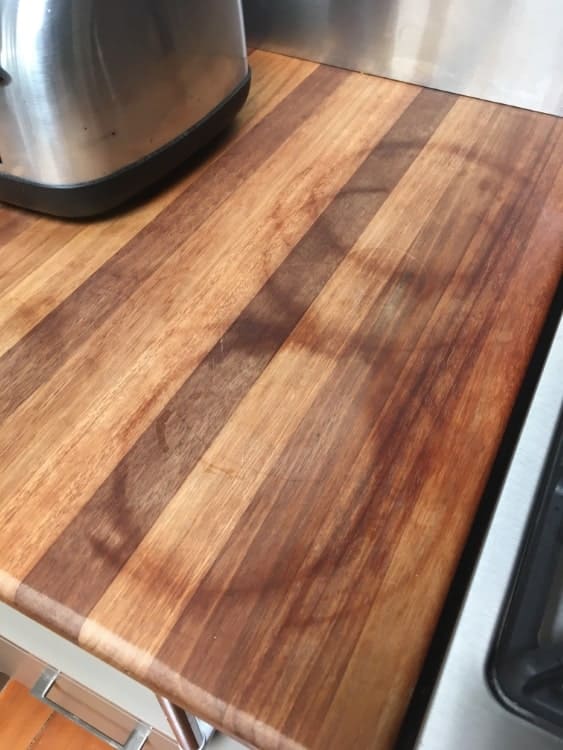 Many kitchen worktop materials contain a resin, which is susceptible to extreme heat and can easily scorch when exposed to high temperatures. Once a worktop is scorch marked this can be extremely difficult and sometimes impossible to remove.
For most worktops you should use a trivet or worktop protector when placing hot pans, baking trays etc down on the surface.
Quartz is particularly susceptible to scorch marking due to the plastic resin in the material. Granite worktops are heat resistant to a higher temperature than Quartz. That being said, whilst some hot pans will not damage a granite worktop, we still recommend the use of a trivet especially if the granite is particularly cold as the temperature shock can cause damage due to rapid thermal expansion.
Effectively, the crystals near the surface of the worktop expand rapidly and can sheer away from the layers below which can lead to a breakdown of the worktop surface.
Which worktops can I put a hot pan on?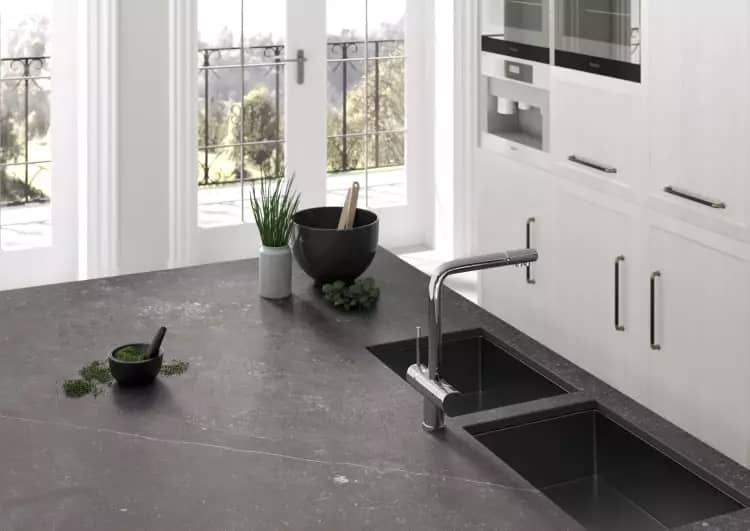 There are a small number of worktops that can take extreme heat without damage if you prefer to have a cleaner environment without worktop protectors, trivets and pan rests.
The main two that Kesseler would recommend are Dekton and Neolith which contain no resin and are manufactured under extreme pressure and heat.
Dekton by Cosentino is a premium worktop that looks beautiful and is highly resistant to damage. It's suitable for either a traditional kitchen or a modern kitchen with a range of décors and styles.
In fact, in tests by Consumer Report they found that Dekton resisted damage in almost all of the tests performed which included resistance to abrasion, scorching, stains, heat, shopping and cutting… so not only can you use your Dekton worktop without a trivet for a hot pan, you can also use it without a chopping board too!
In fact, Cosentino recommends you use a chopping board to protect your knife blades, not the worktop!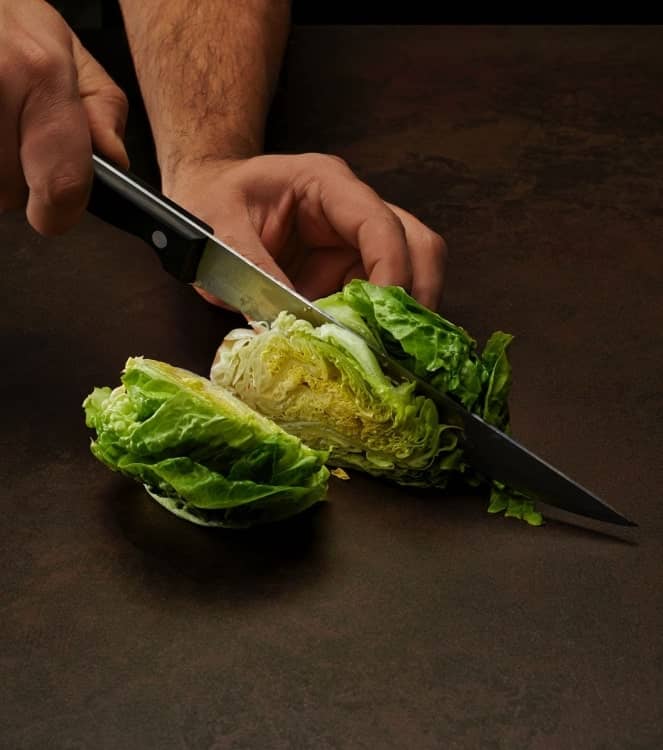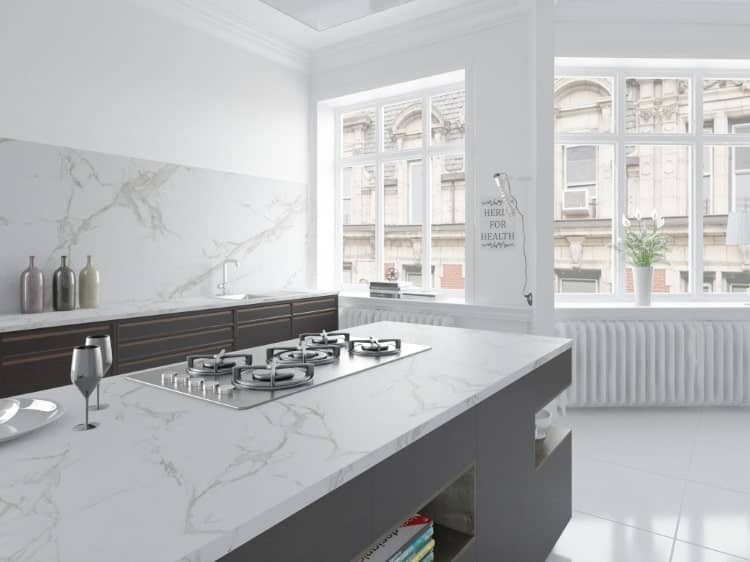 Dekton is a mixture of porcelain and glass, treated with heat and pressure to form slabs which are then fabricated into kitchen worktops.
During the production of Dekton, the press generates 25,000 tons of pressure (which is 2.5x the weight of the Eiffel Tower!) and because of this process there are no micro defects or weak points, with almost no porosity which means it doesn't stain.
The only negative about Dekton is that is can chip easily under high impact, so you'll need to be careful not to drop heavy items on it.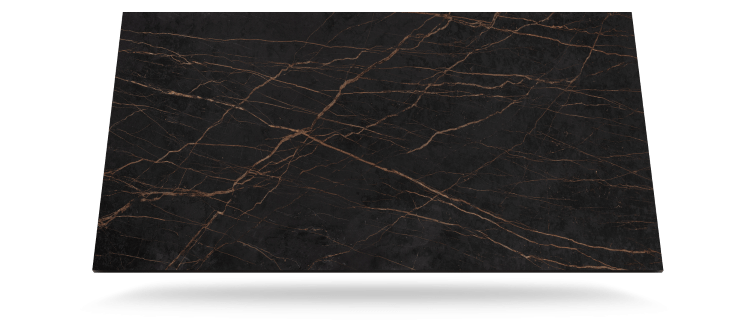 According to Cosentino, Dekton is entirely carbon neutral and sustainable, so for those looking for an environmentally friendly kitchen for their new home, it's a great choice. Dekton is a technological surface containing recycled and recovered materials and carbon neutrality is achieved for the entire life cycle, from manufacture to end of life.
A Dekton worktop comes with a 25 year warranty for true peace of mind. Pair that with Kesseler's Lifetime Guarantee and you really do have a kitchen for life.
It's also very easy to maintain a Dekton worktop thanks to the extreme durability and non-porosity of the surface. Cleaning and day to day care is pretty hassle free.
YOU MAY ALSO BE INTERESTED IN...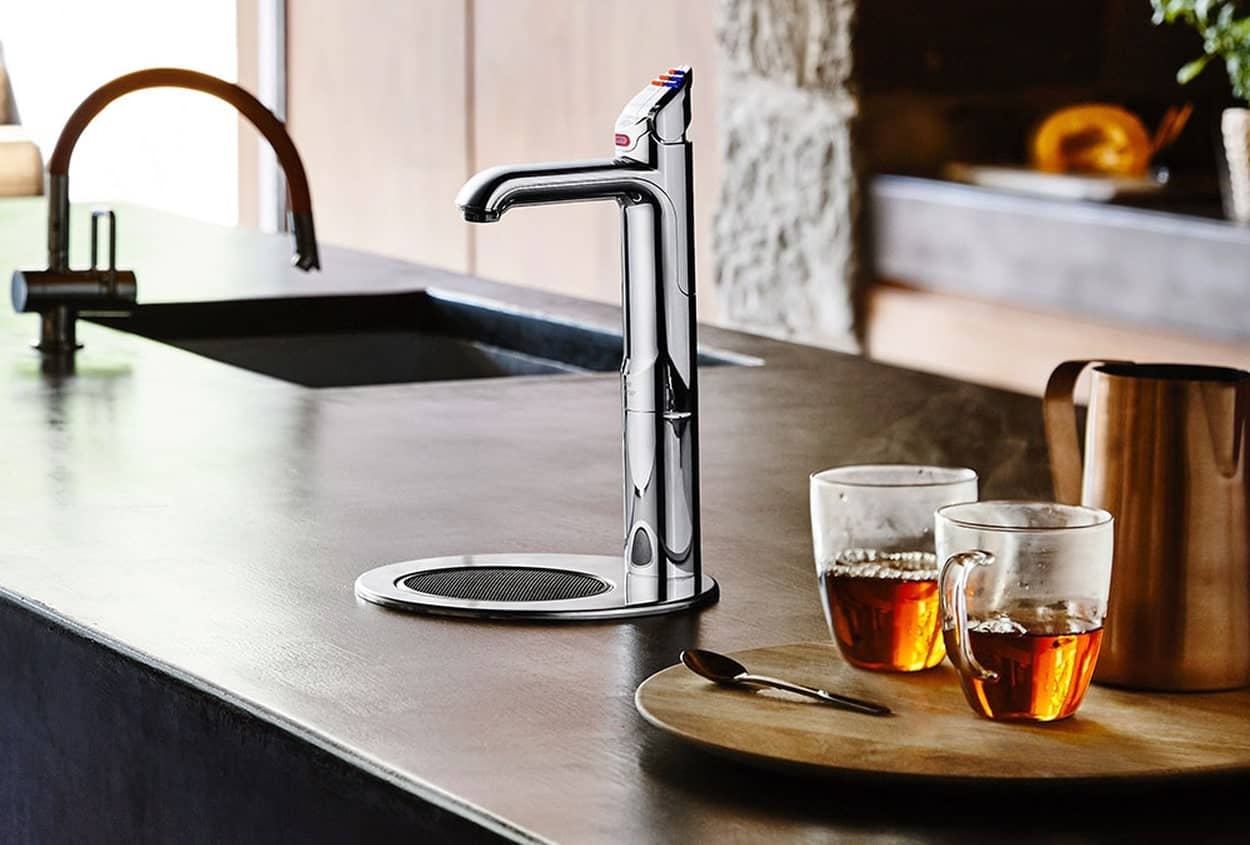 Boiling water taps: which is best?
Best appliance layout for you