Your kitchen is arguably one of the most used rooms within your home, so it's vital that your kitchen is not simply practical and making most of the space, but that it inspires you to enjoy using it. It's essentialism also makes it a room worthy of investment as you are unlikely to upgrade it that often, and once designed and built it will serve you for many years to come.
If the time has now come for you to consider a new luxury kitchen, it may be overwhelming to see a multitude of wonderful and creative designs whilst doing your research.
Bespoke kitchen design ideas will come at you from all angles. Lots of people turn to search engines and ask "what is a bespoke kitchen?" This tells us that the phrase is actually seen, used and thrown around all too often without people realising exactly what it means. That's what inspired us to put this article together to help you.
The good news is that you can absolutely have a kitchen that uniquely fits your needs and design taste if you decide to go for a bespoke kitchen with a little help.
As specialists in the building of beautiful bespoke kitchens, we know a thing or two about it. If you'd like to learn more, you can request a free brochure.
Let's explore.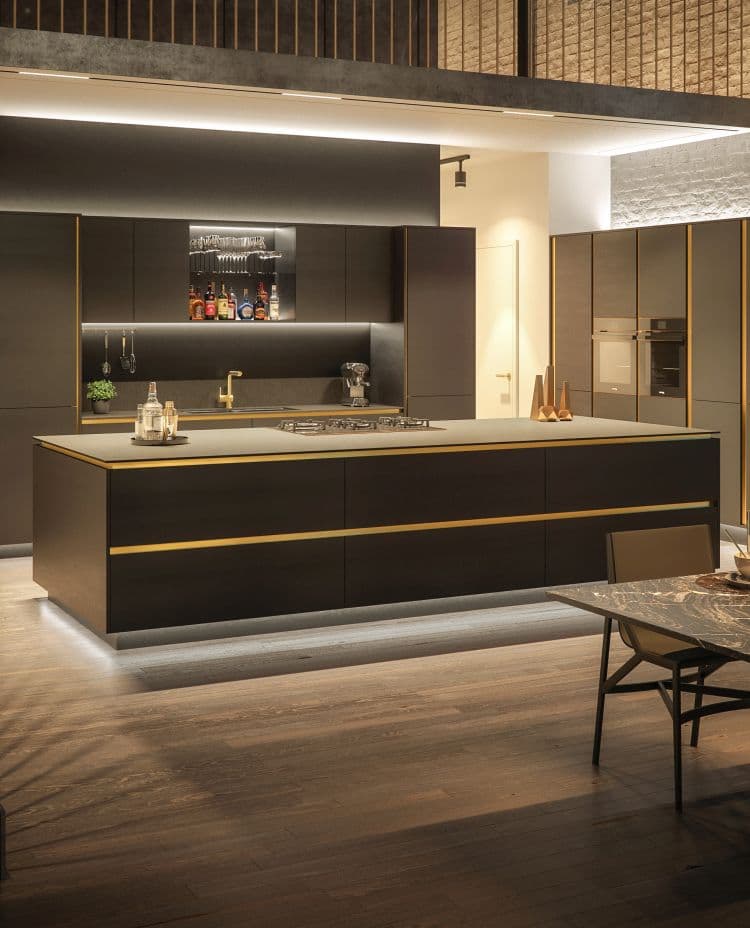 Vanquish true handleless, by Kesseler
What does having a bespoke kitchen mean?
Bespoke kitchens are kitchens designed to suit both your creative and practical needs on a personal level. Ultimately, we consider a bespoke kitchen to mean one that is entirely tailored around the client's requirements, with a combination of colours and finishes wrapped up to create a package that's unique.
In addition, it can be taken to mean custom sizing. Because we build made to measure kitchens across much of our range, each kitchen cabinet is in a custom sizing to suit the space, rather than your typical "off the shelf" cabinets in set sizes from many of the big box companies, or some German kitchens which can often be set sizes.
This includes all aspects of the kitchen from the appliances to storage, the layout, and overall appearance. There is no need to use existing measurements of awkwardly placed kitchen units to replace them with newer awkwardly placed kitchen unites.
Bespoke kitchens go beyond what is available to you and everyone else commercially, they are tailored to your design needs to offer solutions to your current design limitations.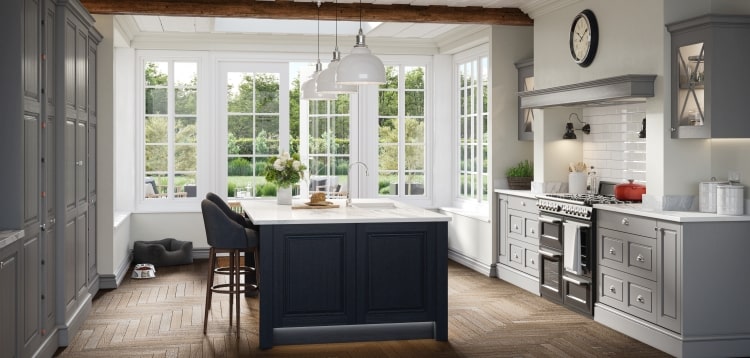 Original Classic, by Kesseler
Let experts do the hard work
There is no need to worry about the design process itself. You are not expected to design anything yourself! All you need is to have a few design ideas in mind, or styles that appeal to you, and a fully qualified and trained expert designer can liaise with you on your needs to help do the rest to get you to your end product – a brand new bespoke kitchen. They have the skills and experience to help make your kitchen dreams into a reality.
The designer is there to guide you through the whole process step by step to ensure the focus is kept on your design needs, so your bespoke kitchen turns out exactly how you envisage it to be. It is an interactive process where communication is important and prioritized, and there is ample opportunity for you to give your input and make choices. At the end of the day this is your bespoke kitchen, and it is the designers job to make sure you are happy with the finished process for which they will go that extra mile to do.

More storage and personalisation
Kitchens come in all shapes and sizes and usually you have to find a way to work around what is available to your needs which does not always work. You no longer have to adapt your creative needs in the kitchen to fit what is available on the market, and you can see your ideas come to fruition.
There are no "off the shelf" cabinets or units, every cabinet is entirely unique to fit and suit your individual space, so if you have specific items you need to store you can have a custom built unit to do so instead of trying to fit them into other various shaped units. This also improved the ergonomics of your kitchen.
Bespoke kitchens are made exactly fit the shape and size of your kitchen area, so you can utilize the most of your space and nothing will look out of place. As everything will fit perfectly bespoke kitchens will always be more visually appealing than purchasing off the shelf products.
Even though bespoke kitchens are custom made it does not mean they will be plain and simple. If anything, quite the opposite.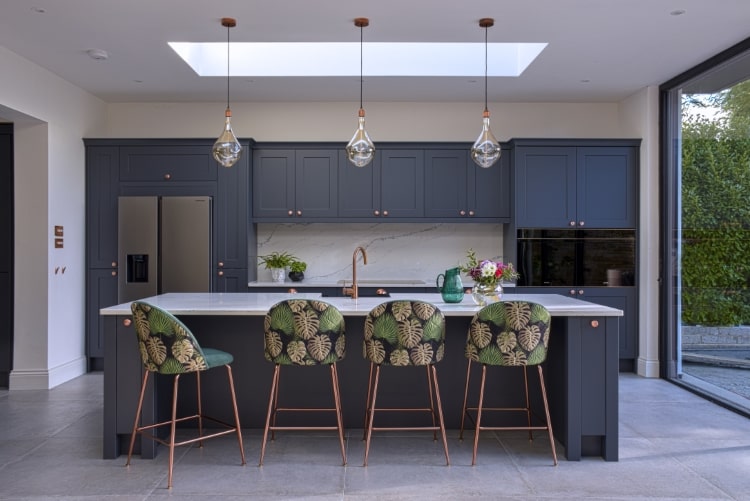 A beautiful blue Shaker kitchen by Kesseler North Kent
Gorgeous cabinetry & design
All bespoke kitchens emphasize design and use beautiful cabinetry, not just plain matt white. You can fully customize your colour scheme within the design in a bespoke kitchen.
Often kitchen units only come in limited colours, such as mostly white which can be boring and even leave your kitchen looking cheap. With a bespoke kitchen you can customize the colour and the design to your preferred design style with options not available on the market.
There is a range of beautiful colours and designs that you can choose from whether you're looking for something modern like our Vanquish true handleless kitchens or something country chic from our traditional kitchens range. Either way, the aim of a Kesseler designer is to make your kitchen as individual as you are.
Each bespoke kitchen design is one of a kind and unique to you, no one else will have the same design as you which makes it that little bit more special. Every aspect of your kitchen design from the cabinet to the shelves will be created especially for you, nothing is "off the shelf" or available for anyone else.
It's even more special if you have been involved in the concept of your kitchen which will make you feel more a part of the design journey and lead you to enjoy the final kitchen even more. It will feel like a great achievement.

Kitchens are for cooking, eating, and enjoying time with friends and family. If you enjoy using your kitchen space, you will want to spend more time there. Opting for a bespoke kitchen will enhance the enjoyment of your space, making it more physically practical and aesthetically pleasing, generally creating a more pleasant environment, and if you enjoy using your kitchen space you are likely to spend more time there and use it a lot more.
Kitchen re-designs do not happy all that often, for most it's a once in a lifetime decision. If you are at the stage of thinking about a new kitchen, it's important to consider all your choices when it comes to the best options for your needs in both practical and design terms. Everyone wants their kitchen to look the best it possibly can, as it's a focal point of your home, but equally you also want it to be practical and fit for use. A bespoke kitchen can help you achieve that balance and bring your dream kitchen to reality, so you can have something that you really enjoy using for years to come.
Planning a kitchen project?
Speak to a designer from your nearest Kesseler showroom today to ask all the burning questions you may have about your project or kitchens in general.
YOU MAY ALSO BE INTERESTED IN...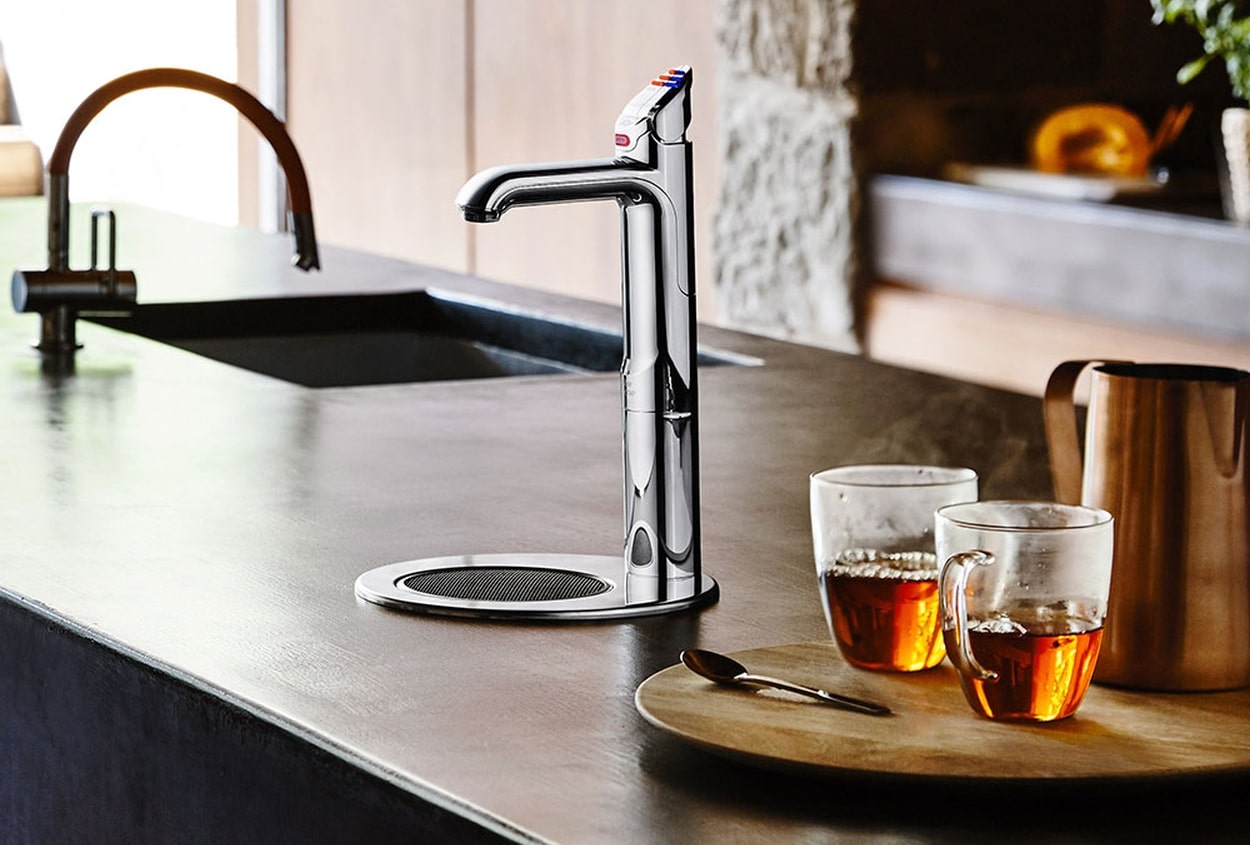 Boiling water taps: which is best?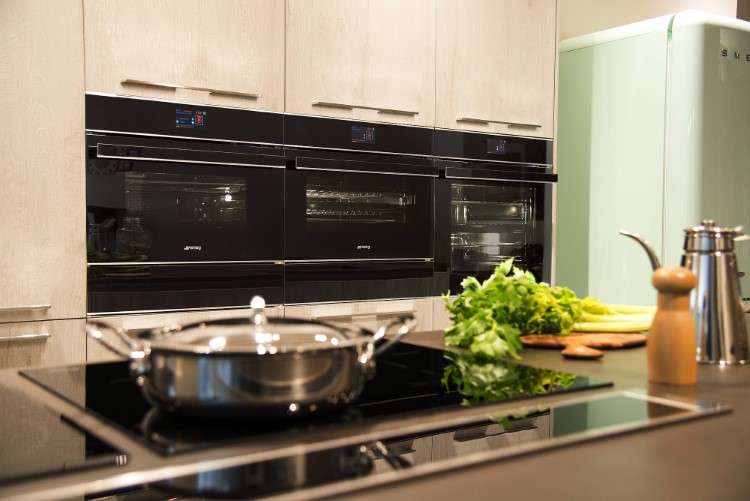 Best appliance layout for you