It's no surprise that kitchen islands have been increasing in popularity in recent years. After all, they offer a lot, helping to increase storage and counter space and offering the option to add seating to a room where seating is often in short or non-existent supply. 
So if you're considering a new luxury kitchen, then it's worth thinking about whether a kitchen island is right for you. If you're looking to make your heart of the home more social and comfortable, then the answer will probably be yes! 
However, it's not just a matter of deciding that you want to add a kitchen island. You'll also need to ensure that you have enough space to make the kitchen island make logical sense. If the dimensions aren't quite right, then it'll throw the aesthetics and functionality of the kitchen all off.
In this blog, we'll run through some need-to-know information and tips that'll ensure you get a kitchen island that you love.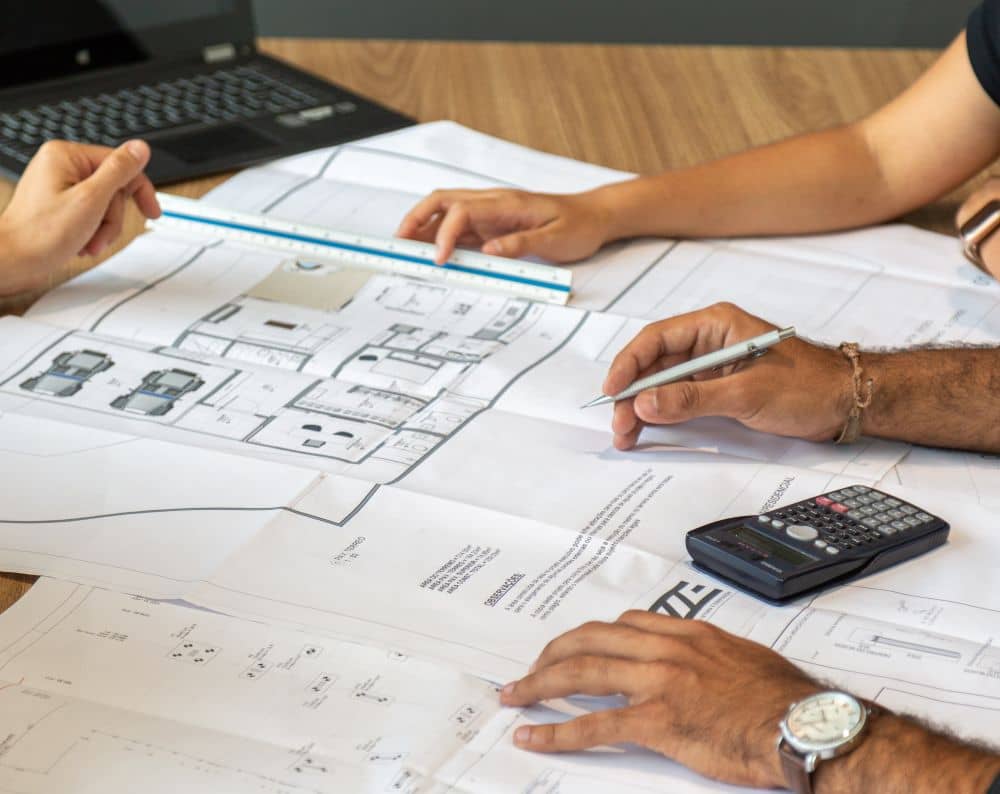 First thing first: it's best to think about the kitchen island before you get to work on your kitchen renovation project. It's much easier to incorporate a kitchen island at the planning stage, rather than waiting until the kitchen is finished.
You may find that you can make it work at that stage, but there are no guarantees. In any case, the island will simply look more natural if it's integrated into your kitchen plans rather than added on at the end. 
You can also start to consider what kind of colour scheme you want to go for and what worktops you'd like. An island can contrast with the rest of your kitchen not just in cabinetry and door colour but also the worktop colour for a real focal point in the kitchen.
For those who love flair, there are some heat resistant worktops available that you can put a pan straight onto! Take a look at our guide to which worktop is best for you.
How much space do you need?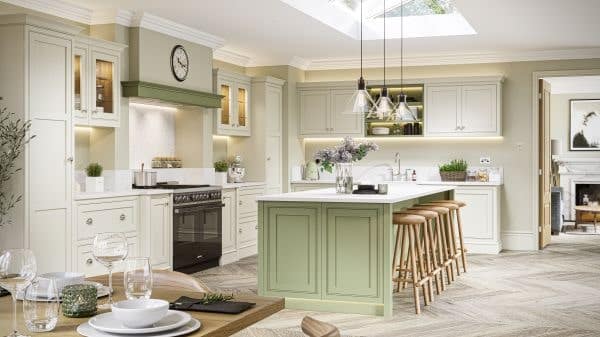 You don't need a large kitchen to make a kitchen island work. There are some fantastic island designs for smaller spaces out there. The most important thing is to have enough space between the kitchen and the island, so you and your family have enough space to walk around without feeling cramped.
You should have at least 3 feet of space around the edge of your island. But that's really only the bare minimum. Most experts recommend around 3.5 – 4 feet which will give you more than enough to move around without making the island look too small.
There's always the temptation to opt for as large an island as possible (after all, who doesn't want more counter space?), but that's not how it works — if you make your island too large, then it won't work for your kitchen.
The perfect size for a kitchen island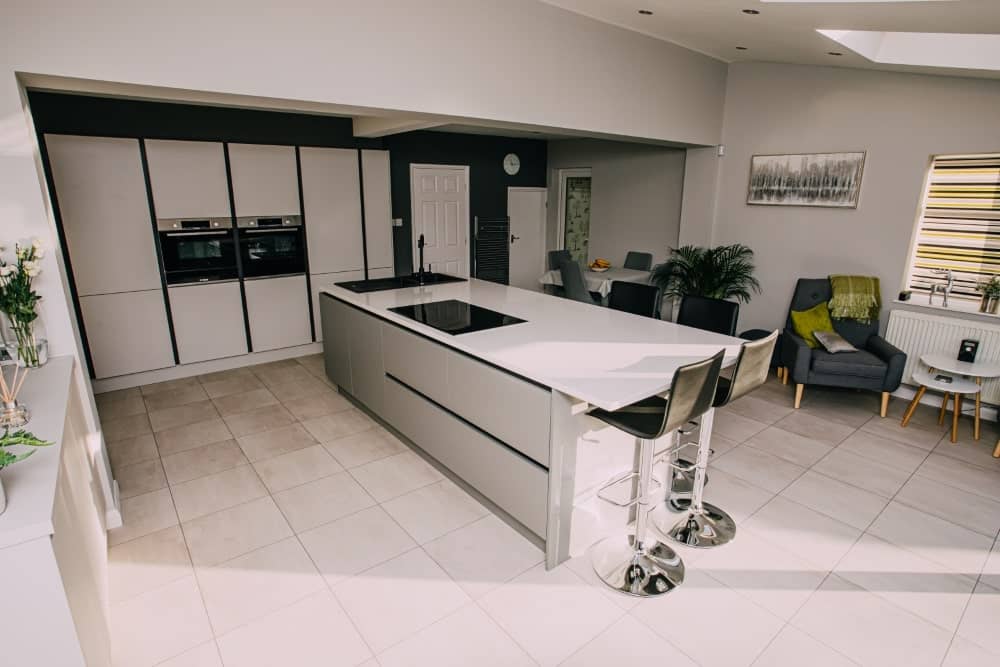 If you're not working with a small kitchen, then you'll have more options as to the size of your island. So what is the perfect size for a kitchen island, providing the kitchen can accommodate it? 
Experts generally say that the "perfect" kitchen island is one that's four feet long, 30 inches deep, with 48 inches of space around the edges.
That works because it gives more than enough space for two seats, worktop space, a sink, and under-storage, as well as lighting above.
Finding the perfect size for your kitchen island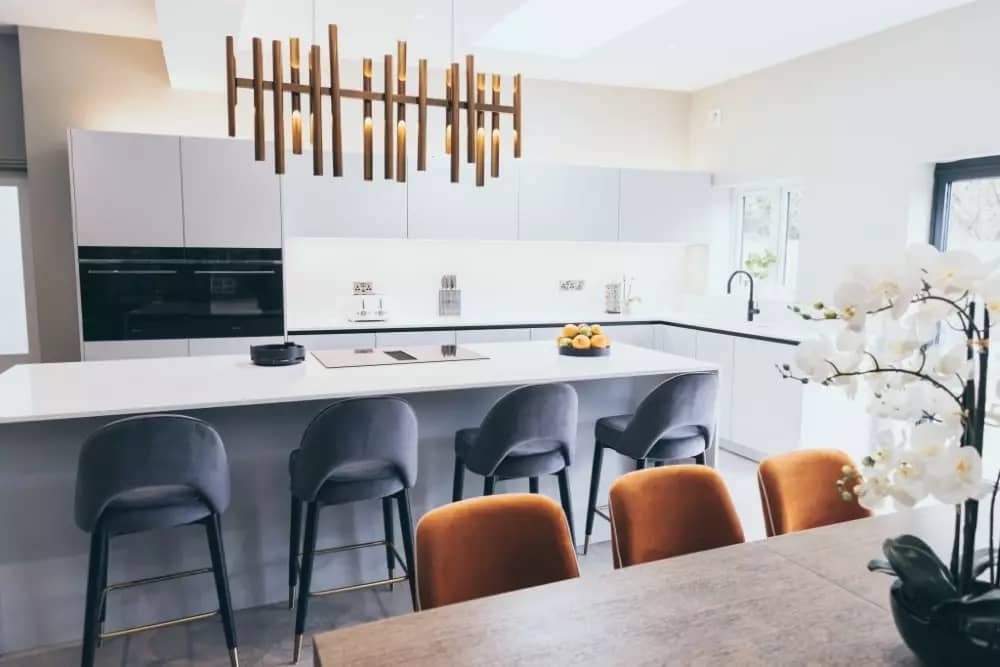 OK, so that covers the ideal perfect size for a kitchen island. But in reality, it's not about the universal perfect size, but the size that's perfect for your space. There's a simple way to calculate this if you're still at the design stage.
First, measure the size of the room. Then add the size of the cabinets, stoves, and other kitchen staples that'll fill the space. From there, you measure the empty space in the room. 
Once you have that, you'll have a good idea of how much space you have to work with, which will influence your kitchen island design. You can add a kitchen island so long as you have at least 36 inches of space.
If you're adding seating to the island, then think about how the space will be impacted once people are sitting down — is there still space to walk around the edge?
Can you create more space?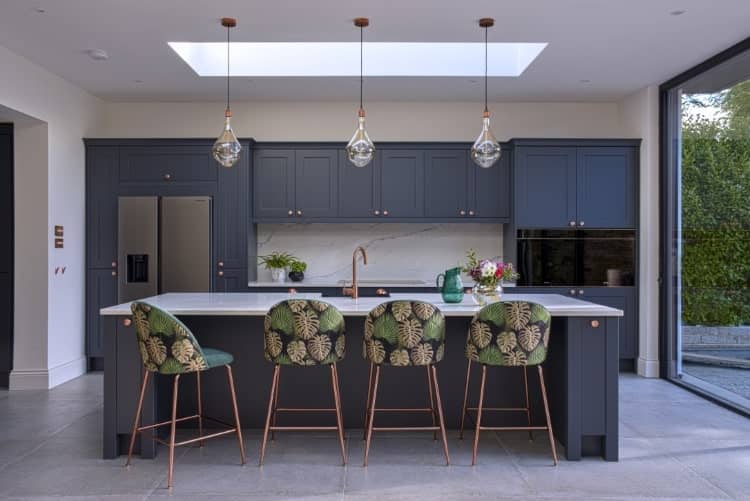 If you're desperate to have a kitchen island but don't think it'll quite work within the framework of your current kitchen plans, then you do have other options available to you.
The first is to check if there really isn't a way to make it work — you might want a large kitchen island, but there are plenty of smaller designs that can add real value to a kitchen. If you get creative, then a smaller island can be just as effective as a large one. 
If that's not possible, then you could look at creating an open-plan kitchen. This will involve knocking down a wall, so it's not a decision you should take lightly, and you'll want to consult an architect or builder first— but if it works, then you'll probably have enough space for an island. 
Adding a kitchen island may look like easy work, but there are plenty of things that can go wrong if you're not careful. Some useful tips to keep in mind include:
Avoid making your kitchen island too large. You need space to work!

Conversely, don't make it too small. The island should primarily be functional.

Keep the number of seats to a minimum.

Trust the advice of experts you work with. 
The main thing to remember is to size your island in relation to your kitchen. There's no point in looking at large kitchen islands if you don't have a large kitchen. The "three feet all-around the island" rule is the minimum; it'll be all the more straightforward if you can have more. Once you know you have more space you have to play with, then you can begin looking at islands. 
Kitchen islands can transform a kitchen, taking it from a functional to a social space in one neatly-designed, aesthetic package. If you're designing a new kitchen for your home, then now's the time to look at adding an island!
And remember, if you're looking for the best kitchens in the UK, then be sure to check out the excellent collection of traditional, modern, German, and made-to-measure kitchens we offer here at Kesseler. 
YOU MAY ALSO BE INTERESTED IN...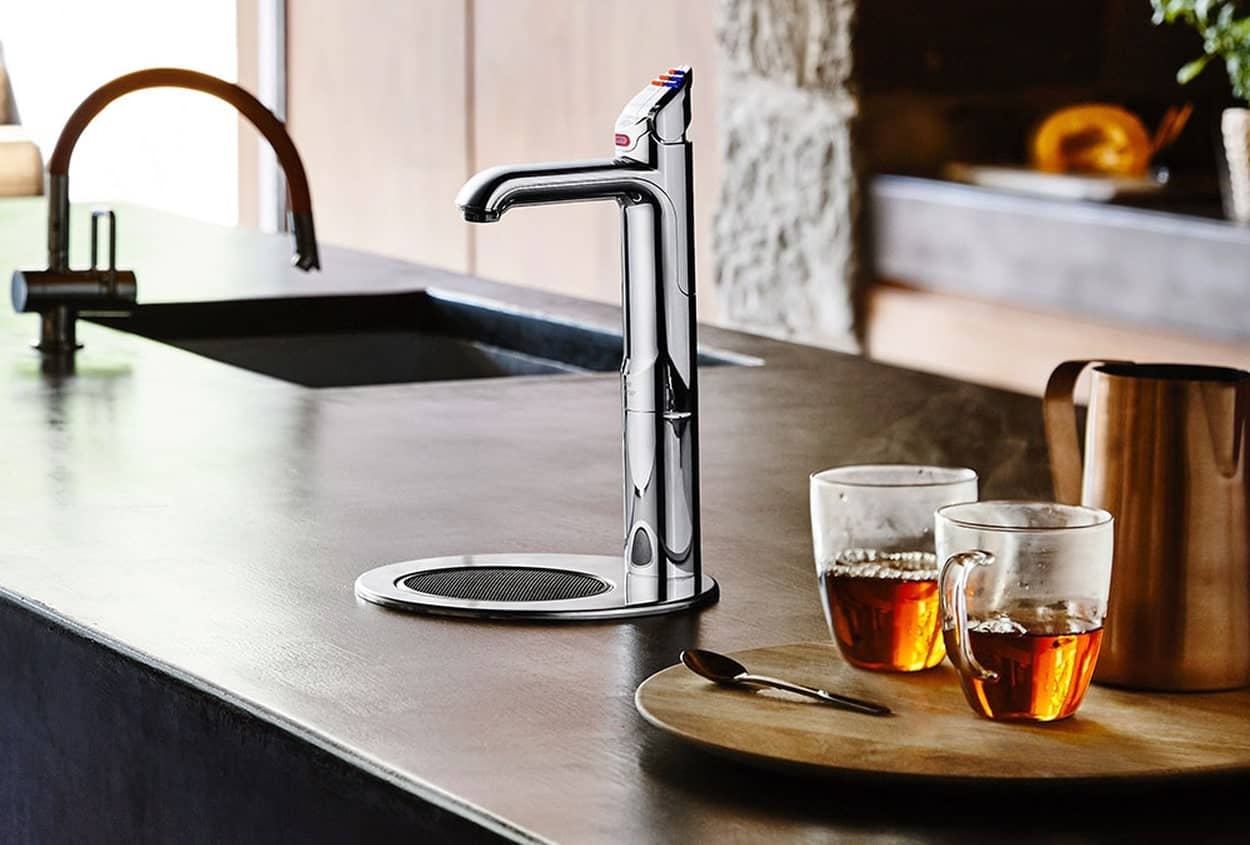 Boiling water taps: which is best?
Best appliance layout for you