Smart Fridge Freezers For All Budgets
Whilst you're still in the research phase for your new kitchen, you've probably started to give some consideration to one of the main appliances that you'll put in it; a new fridge freezer.
As we continue down the path of smart technology, voice assistants and other gadgets being the norm around our homes, it makes sense that our kitchens follow suit.
A smart kitchen can make some of the most mundane chores easier, more convenient and, dare we say it… more fun! Just like boiling water taps, smart fridge freezers are increasing in popularity, and they're not just about physical size and fancy screens.
Many smart fridges installed in designer kitchens have intelligent digital brains with systems for keeping your food fresh, improved air flow for better freshness, companion smartphone apps and technology that kills bacteria to keep your fruit and veg edible for much, much longer.
To make things easier for you, we've rounded up 6 of our favourites that are on the market right now…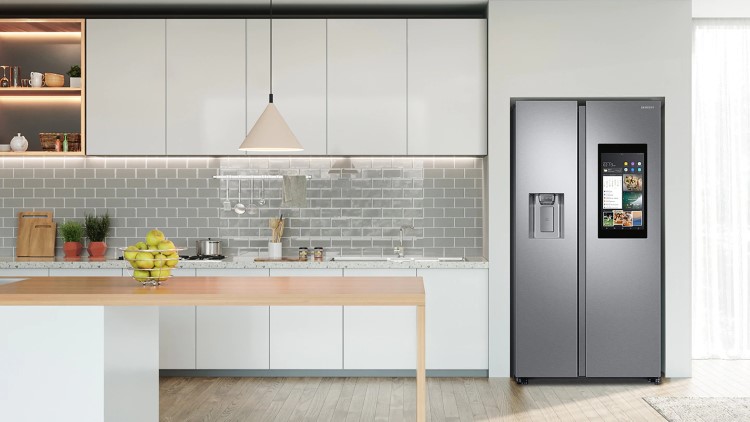 1. Samsung RS8000 Family Hub™
Storage Space: 380 litres
Price: Approx. £999 (as of 2021)
The impressive Samsung Family Hub is available in both American size and standard size. Features include the Meal Planner, which is an app that provides you with different recipes based on the food that's in your fridge and your family's preferences!
It even integrates with the Family Calendar, so it can prepare your meals for the week ahead. If an ingredient is missing you can quickly add it to your shopping list. An ideal accompaniment for all modern kitchens.
You can view what's inside the fridge without opening the door, thanks to View Inside (see below) which uses three internal cameras to show you on the screen or on your smartphone exactly what is inside. You can even tag items with their expiry dates to see when you need to use it by.
It's not all about the food either… this is a true Family Hub. You can sync your Google or Office 365 Calendar with the built-in calendar to see at a glance in your kitchen exactly what's going on today. You can even ask the Smart Assistant, Bixby, to read it for you!
Leaving notes and memos is easy and good fun for kids, too. You can draw a picture or write a note on the screen for the next person to see.
Love listening to music in the kitchen, but don't necessarily want a smart speaker? No problem – the Family Hub can play songs from Spotify or access over 100,000 radio stations and podcasts from TuneIn.
One thing we love about this fridge is the Metal Cooling Interior – this adds an extra touch of style to the fridge thanks to the stunning reflective metal interior.
If you have a Samsung smartphone or a Samsung Smart TV in your house, you can mirror the content onto the fridge screen. Whilst the screen isn't huge by TV standards, it's a smart alternative to having a wall-mounted TV somewhere in your kitchen and keeps the space looking clean.
So you can catch up with your favourite shows whilst you're preparing dinner, or watch the news whilst you have breakfast.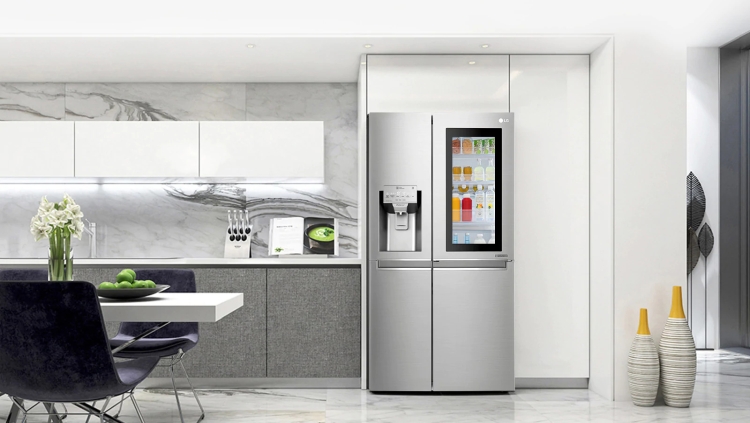 2. LG InstaView Door-in-Door™
Storage Space: 601L
Price: Approx. £1799 (as of 2021)
This incredible fridge freezer from LG is a real showstopper that you'd be proud to display in your kitchen. It comes with the latest version of LG's Door-in-Door™ system, now called InstaView Door-in-Door™. You simply knock twice on the glass and the inner contents are illuminated instantly, helping you see what's inside. By not needing to open the door you can reduce the cold air loss and keep food fresher for longer.
Interestingly, the fridge door is actually two doors. Pressing the button on the handle when you pull just opens the outer door, meaning you can grab quick items. Pulling the handle normally opens the whole door for access to everything else. It's very clever storage and suitable for either contemporary or traditional kitchens.
The fridge's SpacePlus™ ice maker is built into the fridge door, which gives you a wide open shelf space but still allows for door storage.
A great feature is the SmartThinQ™ app for your phone, which gives you important notifications about your fridge from anywhere in the world. It also works with Amazon Alexa and Google Assistant, so you can control the smart features with your voice from across the room.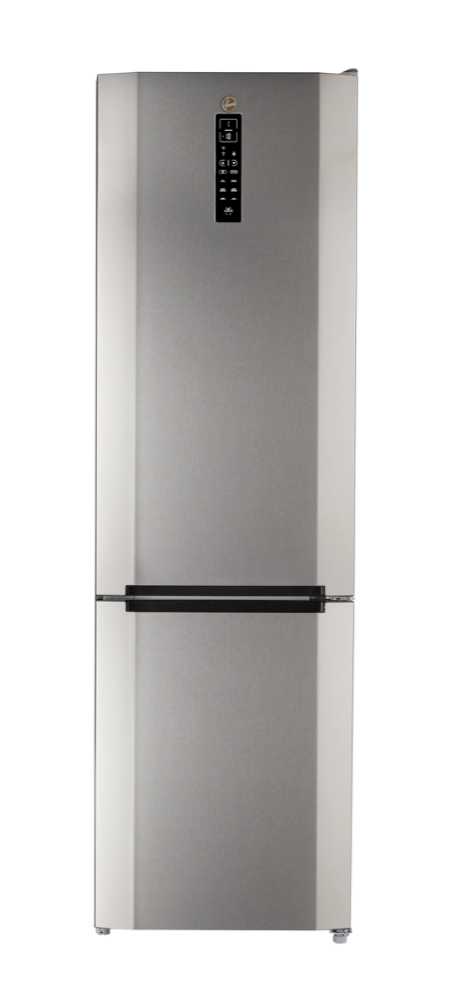 3. Hoover AXI Combined
Storage Space: 351L
Price: Under £500 (as of 2019)
This great value fridge freezer from Hoover is completely controlled by the companion smartphone app, available for either iOS or Android devices. The Inventory Coach keeps you informed about everything in your fridge and it couldn't be easier to manage. Simply speak the names of different foods as you unload your shopping.
The app will also suggest foods to eat a couple of days before the expiry date, so nothing goes to waste.
One of our favourite features is the Ice Drink Coach (see below) which makes sure that all your drinks are chilled to perfection. Select on the app what needs cooling, the size of the bottle and the type of container (can, glass bottle, etc) and the fridge will let you know when it's at optimum drinking temperature. No more ice cubes in your wine glass!
This fridge also comes with Hoover's Humidity Equaliser technology, allowing the fridge to look after your food so it stays as fresh as possible for as long as possible.
Finally, a Holiday Mode means you can go away for a couple of weeks and turn the fridge off but keep the freezer running for energy saving ease of use, a fast freezing compartment and an internal ice maker. They also promise absolutely no frost in the freezer.
4. Bosch Serie 8
Storage Space: 540L
Price: Approx. £3199 (as of 2021)
The successor to the Serie 6 fridge-freezer, is this: the Bosch Serie 8 KAD92HBFP. This is a fantastic fridge freezer with a huge amount of storage space (including the BigBox for large items like gateaux and pizzas) and some very clever technology for those who really want to impress.
The Serie 8 features a Holiday Mode which adjusts the temperatures of the fridge and freezer sections when you're away to prevent energy waste, giving it some stronger eco credentials. 
The really smart stuff comes from Bosch's Home Connect system. Connect to the appliance via the Home Connect app on your smartphone and there are a few clever things it does brilliantly:
1.  Every time you close the door, internal cameras take photos of the contents and syncs with your account. So if you're in the supermarket and wondering if you need milk, you can open the app and immediately see what's in the fridge.
2. Keeping your food fresh has never been easier. To help avoid food waste, the Home Connect Storage Guide will show you the best place to store each item for maximum freshness.
3. If you or a member of the family accidentally leaves the fridge door open (we've all done it) then a notification on your phone will remind you to close it.
4. The app is able to use the cameras and knowledge of your produce to analyse what you have in your fridge and then the Recipe Guide can give you recommendations of dishes to create with what you've got, so you can make the most of everything and avoid waste.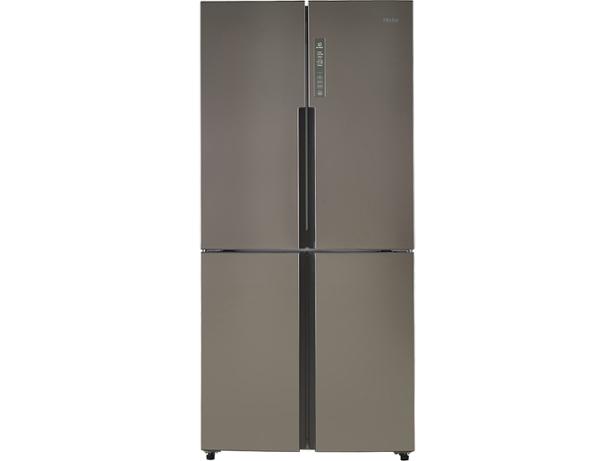 5.

Haier

 

HTF

-55DGS6U1
Storage Space: 462L
Price: Approx. £1299 (as of 2021)
The highest priced fridge freezer in our roundup today, but there's a good reason for its inclusion.
We start with the huge 21.5-inch touchscreen, complete with Amazon Alexa connectivity and built-in speakers for even easier online shopping, cooking instructions and visual entertainment. This unit can also be operated remotely via the smartphone companion app. This Alexa functionality is great; we particularly like the idea of setting timers, listening to music and getting recipe tips via voice commands.
The LCD panel on the glass door will switch on automatically when you approach the fridge freezer, and turn off shortly after you move away. You can transform the screen into a whiteboard that family members can leave notes on, scribbles, photos or voice messages.
This Haier fridge would fit perfectly in a handleless kitchen thanks to its sleek and minimalistic design, coupled with glass covered stainless steel which adds an elegant touch to your kitchen.
Some of the tech on this fridge freezer is brilliant. we love the intelligent sensors on each shelf of the fridge; they detect an increase in temperature when something is placed inside and pumps the cold air only to that area to chill the food faster and keep things fresher – whilst saving energy!
The clever and innovative My Switch Zone lets you use the bottom right quadrant of the unit for whatever you want. A flick of a switch and it can convert from a fridge (+5°C) to a freezer (-20°C) in as little as 6 hours.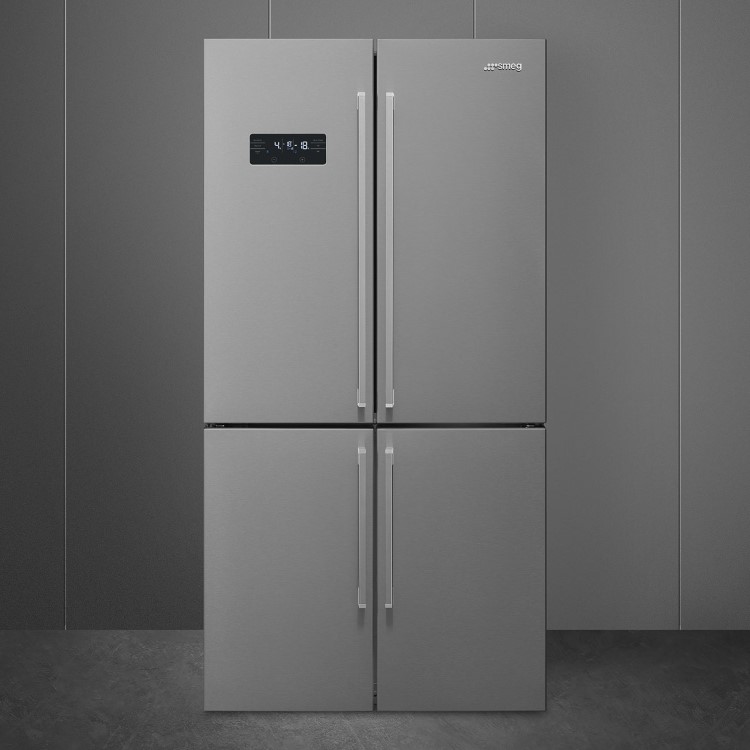 6. Smeg FQ60X2PEAI
Storage Space: 626L
Price: £1899
This sleek fridge freezer from Italian manufacturers Smeg is just arriving in the UK. We're unable to have a proper play with it just yet, however it looks impressive on paper, with a good fresh food capacity, LED internal light for energy saving ease of use, a fast freezing compartment and an internal ice maker. They also promise absolutely no frost in the freezer.
The Smeg unit will come with an LCD touch control display on the front, with easy access to a power saving mode (for holidays and long absences), economy mode, fast freezing, fast cooling and more. We look forward to testing it soon as more of Smeg's smart appliances make their way into the world.
When the early models started to come out, people were sceptical of this new technology and it's potential intrusion into our homes. However, the world is fast accepting smart technology and digital assistants into homes.
From this article, it's clear that for consumers there's a wide range of options available for those looking for the best smart fridge freezer for their kitchen. 
Whether you're looking for something with a digital screen, a smart voice assistant or an appliance that's connected via an app on your iOS or Android device, there's something for all requirements.
As with all new technology, these appliances can come at a price, but if you're planning a stunning new kitchen, particularly a contemporary one, then the appliance cost just adds to the project.